AT-AT Bunk Bed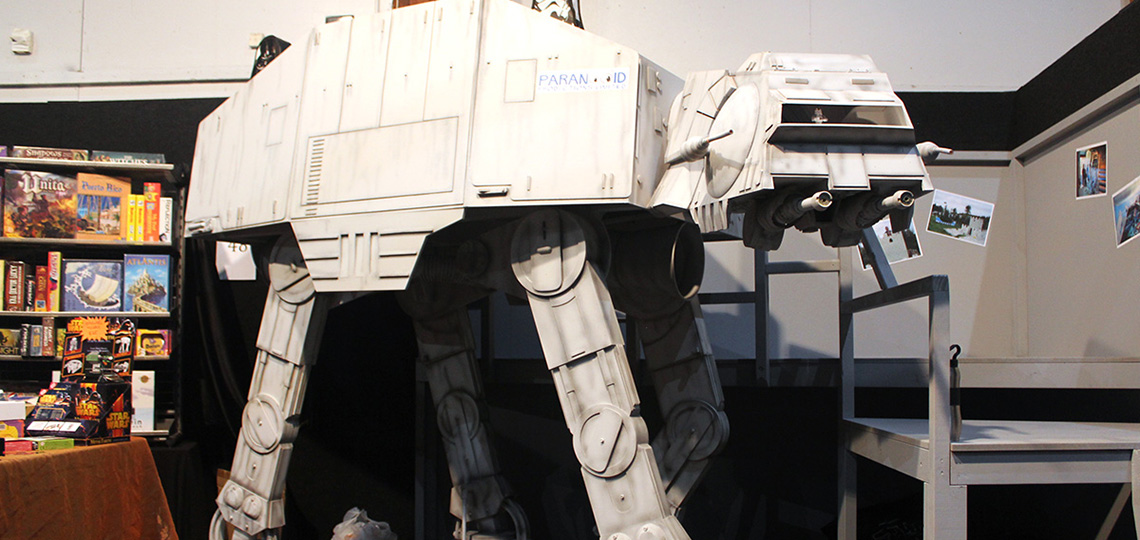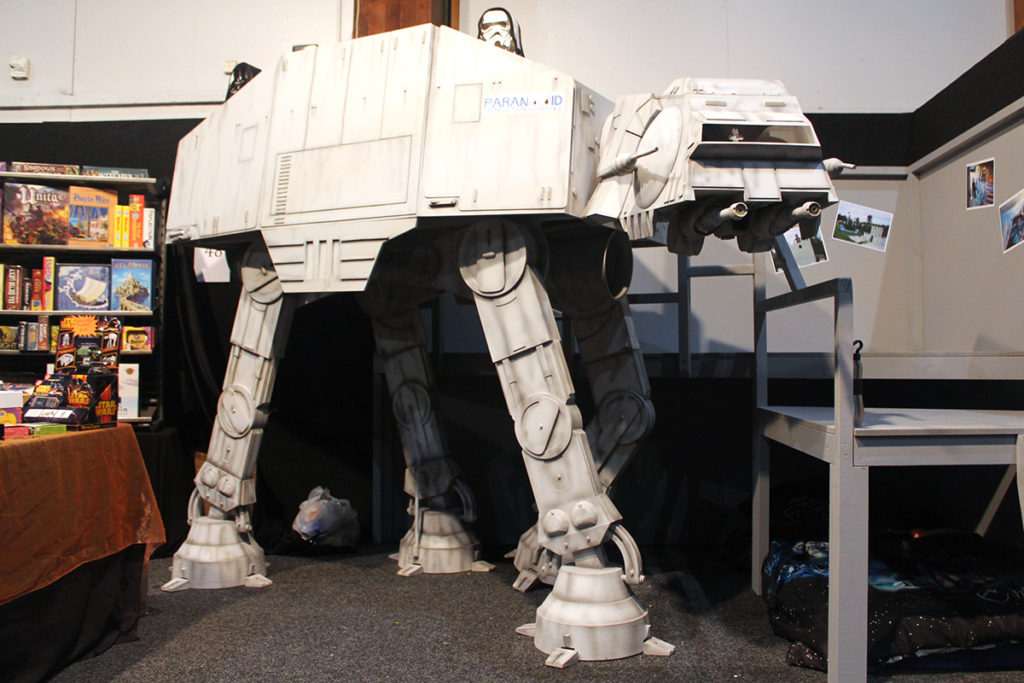 Every now and then, we stumble across a Star Wars creation that makes us wish we were a kid again. Seen at the 2014 Auckland Armageddon Expo, the 3.6m long, 2.4m high AT-AT child's bed made by Philip Magnussen of Katikati-based Paranooid Productions Ltd had exactly this kind of impact. I believe the correct response to such an encounter is to forget that the intended primary audience might be the youngling fans, and remember that when it comes to the appreciation of things Star Wars, the distinction between generations is blurred to the point of nonexistence…just admit that you really want one!
Philip built the All-Terrain Armoured-Bed to fit in his son's normal double-bed-sized room, and duplicated the project to have a model displayed at the Armageddon Expo. It's obviously more than just a piece of functional furniture – closer inspection reveals elements and features such as the action figure storage and playset space incorporated in to the vehicle cockpit! The details behind the whole enterprise are both remarkable and intriguing – Philip has taken the time to respond to our questions, as we sought to dig deeper in to the story behind this imposing construction…
What are the basic stats for the AT-AT: number of pieces, time to build, etc?
I built the first one out of love for my son and hence I stopped counting the hours at 400, and I figured the copy I created for the Armageddon show would take less time, however it still took 420 hours to complete. This is "chargeable time" only (that is actual productive work), not including hours in design, fixing mistakes etc.
The entire structure is made of 1260 pieces, virtually all hand cut (some others such as buckets, circuit boards etc. were sometimes used whole). The construction is a timber frame with plywood and MDF and some plastic/foam for detailing. The legs have over 500 pieces between them, while the head has nearly 400.
What is the basic process for designing and building the AT-AT?
The design process: I wanted to build a unique bed for my son who was 6 at the time. He loves Star Wars every bit as much as I did at his age. I sketched up a few ideas but the AT-AT has always been one of my favourites and the body shape is nearly perfect for a bed, so I quickly picked that design.
In order to fit a full sized mattress in the body (so my son hopefully wouldn't grow out of the bed), I needed to make the body 2m long. This would have left the head pointing towards the wall which would have been boring to look at so instead I decided to angle the entire bed and have the head facing the door. This also allowed for a bunk bed next to the walker, and cut the bedroom in half diagonally allowing for a decent play space nearby.
I wanted to have a dramatic pose so I from the start I planned to have one leg bent. This was possible by having the platform as the "fourth" leg, creating one strong structure that would take the weight of several kids at once.
From there it was a simple matter of sculpting the original movie design to fit the space. I am very pedantic when it comes to models – they have to have the right proportions (so many of the toys are simply "wrong"!) So I tried to keep it as true to the original as possible. The main changes I had to make was that the body had to be wide enough to fit the mattress and keep the beveled shape. The legs had to be short enough to keep the mattress at the height of the top bunk of a normal bunk bed.
The head had to be large enough to be menacing compared to the body, and hence it was scaled up. At first the head was just going to be a box, but then I thought "why not make it a storage compartment?" followed immediately by "why not make it a play set!" The larger size therefore allowed room for more figures.
The platform needed to be high enough to allow access to the bed beneath, while being low enough for my son not to have to stoop every time he got out of bed. I chose stairs in the original design as I wanted a safe method for him to get out of bed with no lights on.
Building: The entire piece is hand made. The feet are solid, cut in rings from 18mm MDF, in order to give it a low centre of gravity. There is a timber frame running through the three straight legs, under the body, and out to the head. The base of the body is made of plywood for extra strength. (To demonstrate how strong it is there were 5 big guys at once crammed into the bed at Armageddon for a group photo!)
In order to speed the process I used other shapes wherever possible. The engines are simply six buckets joined together, and old computer components were a quick way of adding detail around the head. The guns are made of drink bottles and other plastic objects to keep their weight down as they slide back and forth (and in the long run there will be a motion sensor and motor to fire the guns as people walk in the door).
Painting was the easy part – simply a grey base applied with a spray gun, and black weathering applied with an airbrush.
I love finding details in a work of art, and hence I built detail into this bed even where you can't really see it. If anyone gets down on the floor and looks under the raised foot they will notice details built in there!
Changes in the 2nd version: For the Armageddon Expo I decided to build an entire copy of the bed, and this gave me the opportunity to make a few changes from experience. My son is too short still to be able to reach all the way inside the head from the steps on the platform. So, this time I did away with the steps and kept the platform at a good height for kids to play with the head.
The higher level platform is also a lot lower from the main bed, making it easier for an adult to make the bed, and allowing the kids to grow taller before needing to duck their heads. The platform is also wider so that a small mattress could be laid down for a third bed.
Why did you select an AT-AT in this instance? To what extent are you are Star Wars fan?
The AT-AT is such an imposing creation, and with a rectangular body it's a perfect starting place for a bed. The AT-AT forced the bed to be high up (I toyed with a crashed walker for a few seconds but it just wouldn't have been impressive).
I loved Star Wars ever since the first movie came out when I was 7. My entire life was focused around Star Wars for the next decade, and it has never left me. I love "art of" books, and I have virtually every non-fiction book published about Star Wars, including 4 worth over $500 each. These have been great reference for paintings etc.
I have two wonderful children, my son aged 7 and my daughter aged 11, and they both love Star Wars too. So now I get to make or buy them things that I would have loved as a child, and I know how much they enjoy them.
While I grew up with the original trilogy, I have never forgotten that they are kids movies so I can tolerate Ep 1, enjoy Ep2, and love Ep3, but Episodes 4 and 5 will always be my favourites. I don't hate anything about the movies (Jar-jar comes the closest to touching a nerve) so I can relax and enjoy all of the movies with my kids.

What other similar projects have you finished to date?
I'm just an artist who has a knack for picking up new talents. I started with building a 2 level castle with a sand pit moat, and a pirate ship as a playground outside. Then, since my daughter loves Doctor Who, I built her a TARDIS door for her room. Next came the AT-AT bed. So there was a gradual rise in difficulty, and I picked up the skills as I went. It helped to have a grandfather who was a boat builder, and a father who was an engineer, and being very patient and detailed I just kept going until the vision in my head was finished in front of me.
I converted the garage into a kids lounge, and decided to deck it out as the bridge of a Star Destroyer, so I painted the ceiling with a view of space.
In terms of offering your services for such builds, what are your goals, and plans for the future?
As an artist I am always looking for a new challenge. I've written a novel, made short films, painted, sculpted, and now built two AT-AT beds. When I finished my son's bed everyone suggested I make the work commercial as it was so unique, and hence I am now offering my services to custom design anything, be it a bed, playground, or a kennel.
In the long run I would like to get licences to build these designs, in which case I could make them as kit sets and mass production would bring down the retail price. I also aim to build displays for other exhibitors, such as giant robots or dragons, etc.
What are the best ways for people to contact you, and/or see your work?
The URL for my website is Paranooid.com – that is the best way to see my projects. I also am on Facebook and people are welcome to send me a friend request.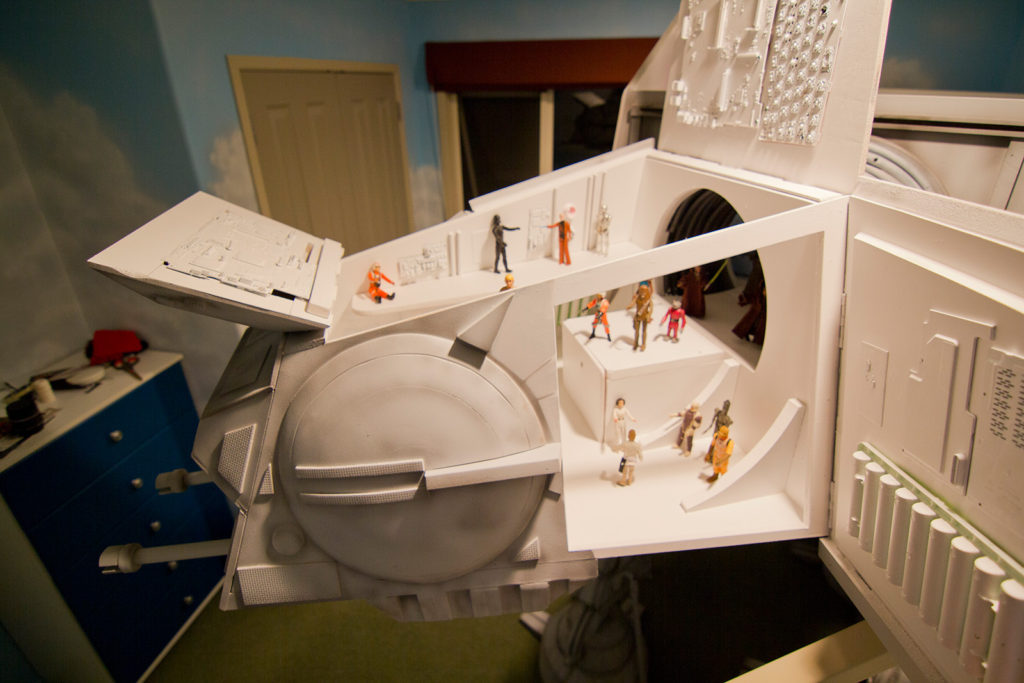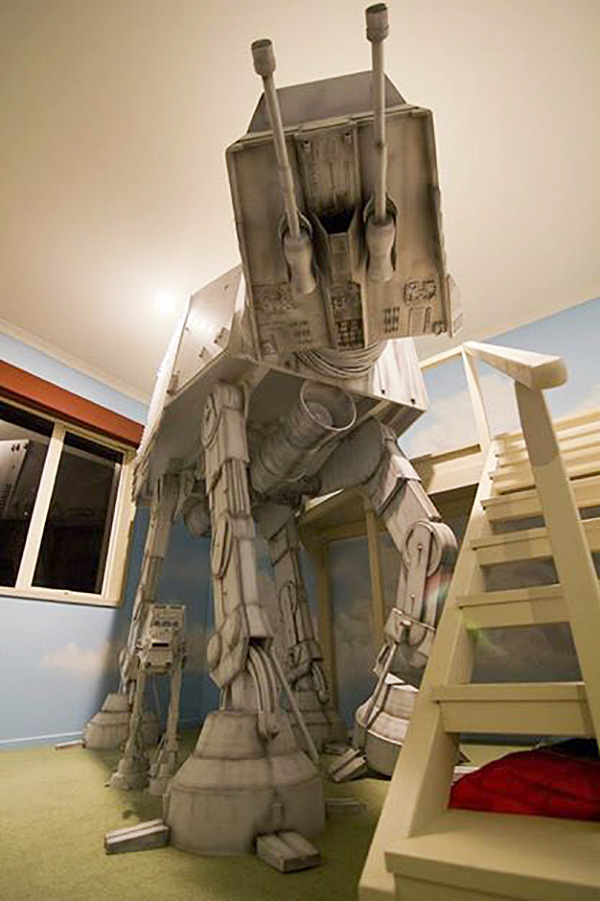 All SWNZ content will always be freely available. However, if you'd like to support this site, please consider buying the admin team a coffee via Ko-Fi. Either way, thank you for visiting; we appreciate your support!