Paul Shipper – Artist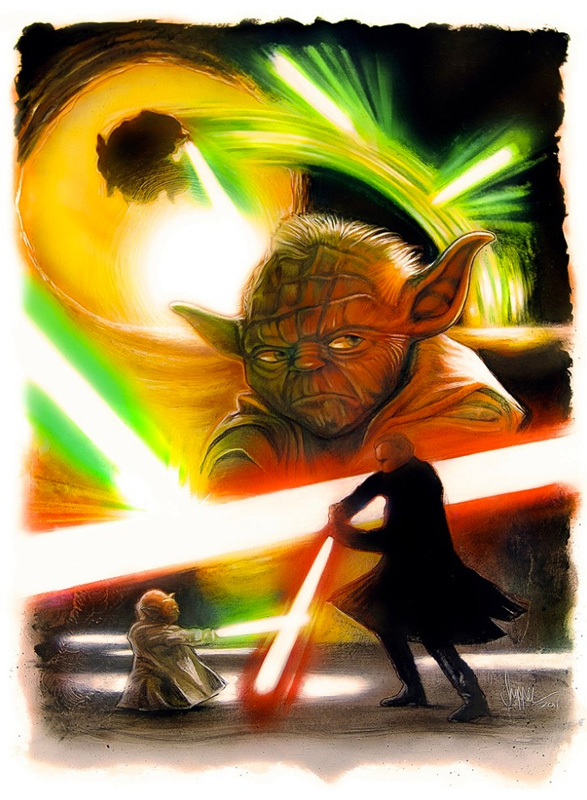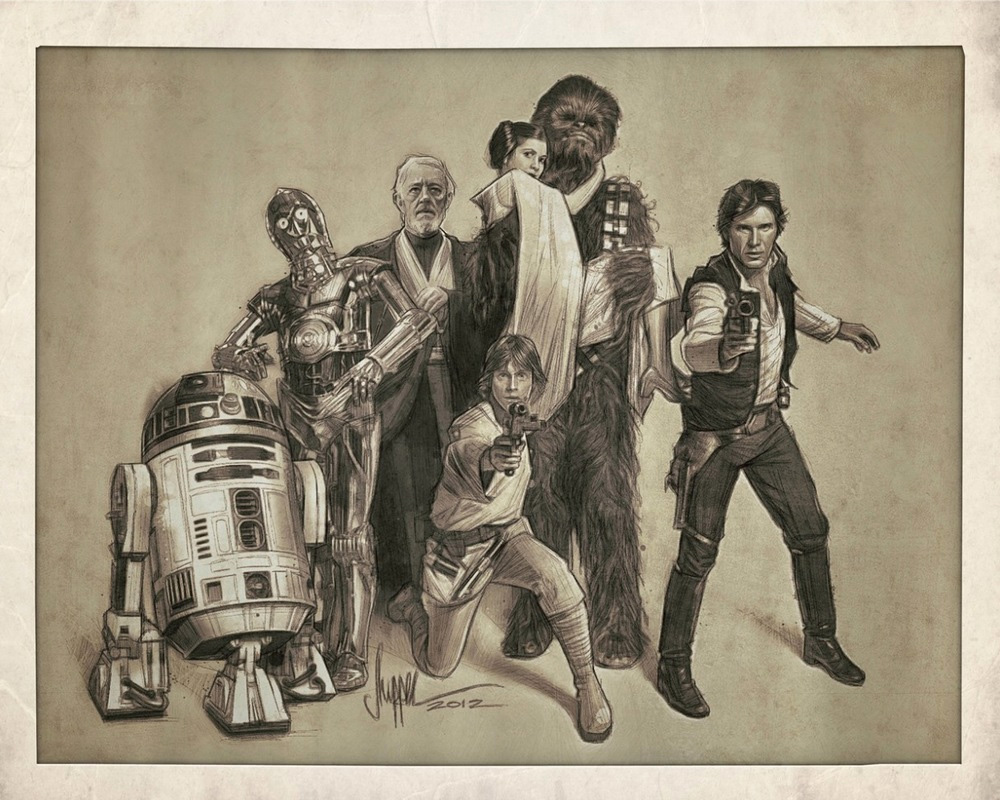 Paul Shipper is a kiwi by choice, having emigrated from Manchester to New Zealand, with his family, a few years back now. A talented and established artist, Paul has worked with topic material from a couple of Lucasfilm franchises. As a freelance illustrator, his clients include GQ Magazine, ITV/Granada, and importantly, from a Star Wars perspective, Topps Inc, Wizards of the Coast and WizKids Games. For Topps, Paul contributed to the Star Wars Galaxy 4 card series interpreting an historical moment featuring Yoda and a pre-dark side Dooku as allies; his work for that line also includes the image on the rear of each sketch card – a rendition of the climactic 'Return of the Jedi' lightsaber battle. For Wizards and WizKids, Paul has bought to life characters and scenes from the silver screen and the expanded universe, and re-created montages in classic Original Trilogy styles.
We are very pleased that Paul has given us some of his time to explore the background to his artwork. We'll let him expand on the details of his story by way of dialogue:
SWNZ: Let's start at the beginning – how did you break in to this industry? What led you to illustration as an occupation, and what training did you undertake?.
Paul: I'm not sure if 'breaking in' is the best way to describe it… The reason I chose the path of the illustrator is largely down to a love of drawing and collecting posters as a kid. One day I realised they were all painted, and not only that, of the favorites I had on my wall the majority were all painted by the same person… That person signed all his posters 'Drew'… It was then that I began looking into this profession of an illustrator, realizing it was a real job, although only for a relatively small number of creatives that got the work, but regardless of that fact, I still had a dream of illustrating film posters from then on…
I followed art through school, college and then culminating in an illustration degree at MMU… From there, where you are taught zero when it comes to actually being an illustrator in the real world, I had to learn the hard way and it has been a fairly long road to get where I am today, but I have kept my dream at the forefront of my mind the whole time, even after some of my tutors back at University were trying to bash it out of me.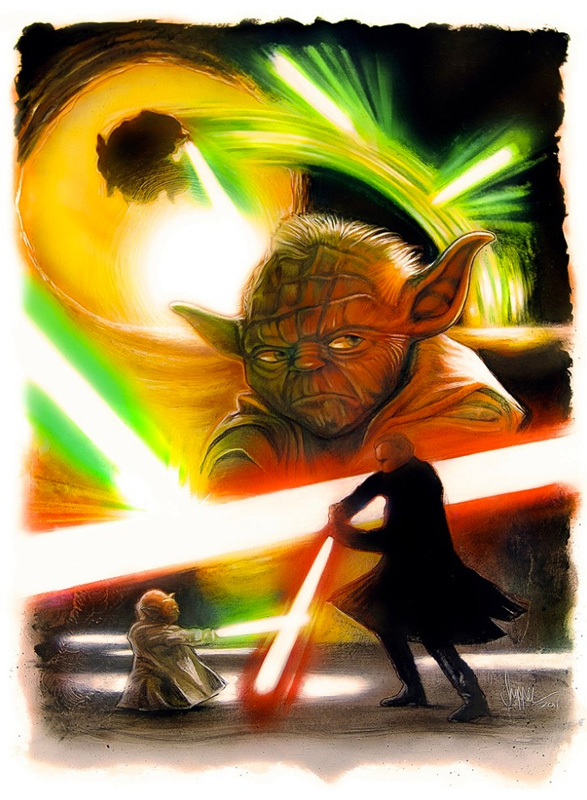 SWNZ: Can you tell us a little more about your passion for cinema posters, and the history of that interest?
Paul: Whenever I went to the cinema, the posters always grabbed my attention in the lobby, to the point I would begin collecting them from film fairs on the weekends…collecting them, studying them became a bit of an obsession really. I used to sit on the floor pouring over them, and would study them for hours, trying to work out technique, materials… I would be in awe of the work for so long, I still am… Back then you couldn't google search, it was kind of old school I suppose by way of learning a craft and then taking it to my own drawing board. Drew [Struzan] himself once told me I'd had a good teacher, meaning himself. That was due to studying and doing and re-doing, playing, having fun, and making mistakes… I do what I do because I love it so much… And if just one person is touched even slightly by something I have created then I feel that I have done some good in the World… That's what happened for me; the art I admired so much, it inspired me, inspired me to follow a particular path…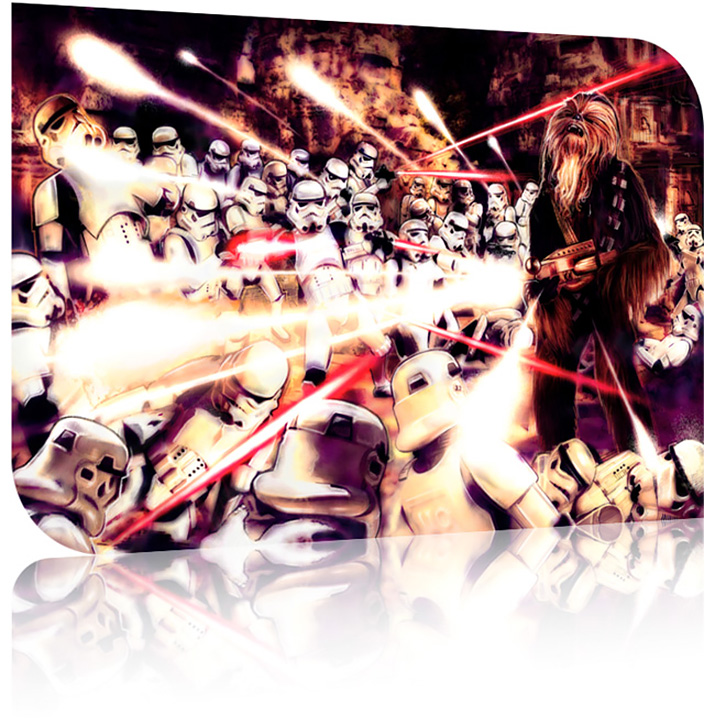 SWNZ: Of the Star Wars-related commissions you have undertaken, what characters/compositions have you most enjoyed creating, and why? Similarly, what non-Star Wars characters/compositions count amongst your favourites? Are there any characters, or topic material, that you have a personal interest in, that you would like to explore further through illustration?
Paul: There are many areas of the Star Wars Galaxy to explore and the great thing about this job is you never know what is round the corner… Keeps you on your toes. My first official LucasFilm/Star Wars job was very exciting to me…it was the culmination of a recommendation to send a portfolio to the AD at LucasFilm via a communique with Steve Sansweet. A friend of mine showed him my work and he liked it…said I should send in my folio…so I did, and called the AD on the phone to follow up. They liked my work, but weren't going down the traditional route at the time… It was disappointing, sure, but a day later I got a call saying that they had something they wanted me to do for them… I was pretty happy to say the least.
When I create an illustration especially for well known characters I like to do as much research as possible and find as much reference material as possible… Trying to find reference that may not have been seen in an illustration before is something I try to do with each project, it is hard, but I have to try. I remember seeing art created that I would love for the franchises and to see what reference was used and how it was used was always of particular interest to me. A head from here a body from there sometimes. I couldn't give you a favourite Star Wars character as I am fond of them all, but I would have to say of another particular franchise, Indiana Jones has always been a strong favourite of mine to draw and paint.
SWNZ: Does your interest in Star Wars and/or Indiana Jones extend beyond illustration – do you follow the novels, comics, collectibles or other hobbies?
Paul: I grew up with these films, they are a part of my upbringing, so yes, I have lightsabers, a collection of fedoras, a Wested leather jacket and Alden Shoes… The list does go on…I have a collection of merchandise that in my younger years I made it a mission to find and collect as much as I could.
SWNZ: Can you walk us through the steps you typically follow to complete a commissioned piece? .
Paul: It all starts with an idea, sometimes a sketch, sometimes the initial idea will exist in my minds eye only… Talking with the client and what their expectations are is right up there and satisfying the client is of utmost importance…and to try and exceed expectation if possible! Gathering reference, from books, assets sometimes supplied by the client and lots of Internet searches. I use Photoshop to create my compositions usually and then draw the comps up either traditionally using pencil on illustration board or digitally using my Wacom tablet and a program like Sketchbook Pro. Traditional work is drawn on gessoed illustration board, then airbrush acrylic for the base colours followed by more drawing using prismacolor pencils… To bring out the details and finish off… There are choices I make along the way for each project but that is the very basic process. Digitally I work in much the same way, however it is using layers of colour with simulated airbrush and textures followed by lights and darks with digital pencil techniques.
SWNZ: You've been illustrating at one level or another for some time now – has your workflow, and/or the tools you use, evolved in any way, over this time?
Paul: I use the same pencils and acrylic paints as always… new airbrushes have been put through their paces over time and plenty of new pencils have been bought as they wear down to stumps… but mostly the traditional way hasn't evolved a great deal…I have, however evolved my digital techniques and ways of working which is currently a preferred way of working for myself and my clients. Largely due to the fact that no scanning of the image is required, the end client needs the file in a digital format and making changes for the client is a lot easier and faster to produce. At times I can have the changes done for the client with in a matter of minutes and the file can be updated and delivered as fast as the broadband will take it. Time factors are important but I never want to skimp on quality, and I think I have nailed that right now. Some projects lend themselves better to traditional ways and others digital, it all depends. The foundation to my way of working always goes back to the traditional ways and I will always hold on to that aesthetic, even in my digital work. I hope that when people see my work, they actually can't be too sure if it is traditionally created or done digitally.
SWNZ: On a more personal note – how are you finding living and working in New Zealand?
Paul: I love it here, i have been here since 2008 and I really love the country, the people and the lifestyle… I am sure we will be here for the foreseeable future… But who knows…
SWNZ: Any closing insights into your current projects, and/or are there any Star Wars-related illustrations we might see coming out of your studio in the future?
Paul: I have a new Star Wars piece coming out later this year for Topps which I am proud to have been asked to create something for…. Other projects are the Official Star Trek: Khan covers for IDW [Comics] I have just finished cover 3 of 6. I am working on a Cloud Atlas poster project at the moment, a children's book, some great gallery shows including a Jaws show and some secret work I can't really talk about just yet… But stay tuned!
Related link: PaulShipperStudio.com
Facebook link: Paul Shipper Studio
Twitter link: @PaulShipper
Tumblr link: PaulShipper.Tumblr.com