SWNZ Message Boards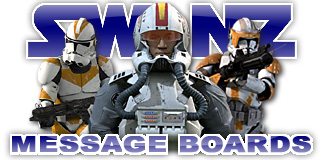 The new SWNZ Message Boards are fully up and running, and accepting new registrations. The following are the topic categories available:
– Toys and Collectibles – Star Wars action figures, models, statues, stickers, cards, promotional items, and other collectibles.
– Conventions and Events – Preparation for events/appearances, and discussions + photo-sharing afterwards.
– Costumes and Props – Ideas, tutorials, questions relating to armour, costumes and replica props from the Star Wars universe.
– Literature – Star Wars comics, novels and non-fiction books.
– Games – Star Wars games discussion: console, PC, retro-video, board, trading card, miniatures and roleplaying.
– Miscellaneous Star Wars Discussion – Star Wars discussions that don't fit into the other forums.
– Buy, Sell & Trade – This section is for member-to-member 'for sale', 'wanted to buy' and trade listings for Star Wars collectibles and merchandise.
Come on over and join in the conversation! Read the 'Welcome' message for more details.