Auckland Armageddon Expo 2010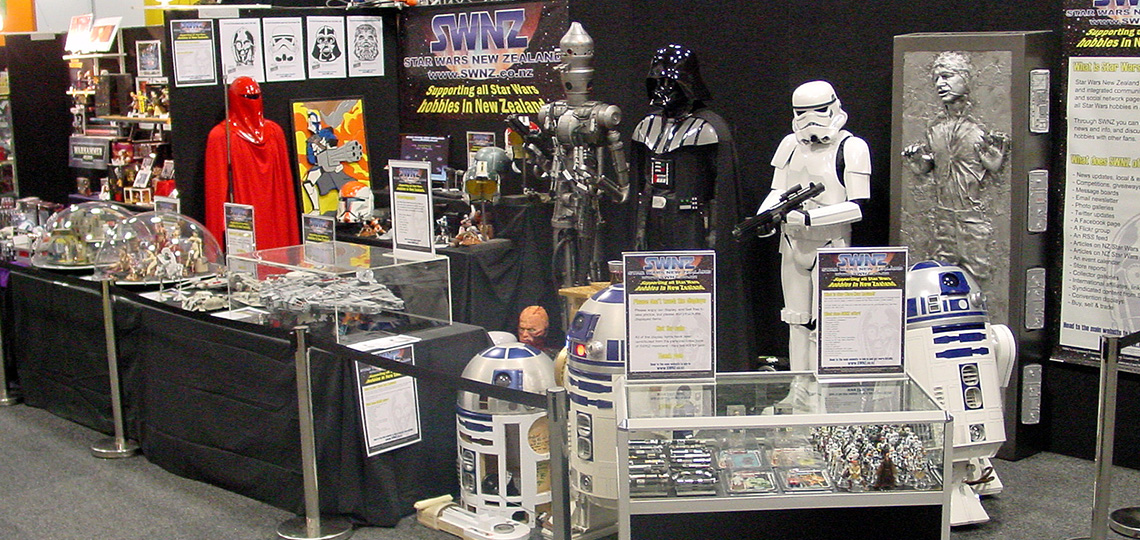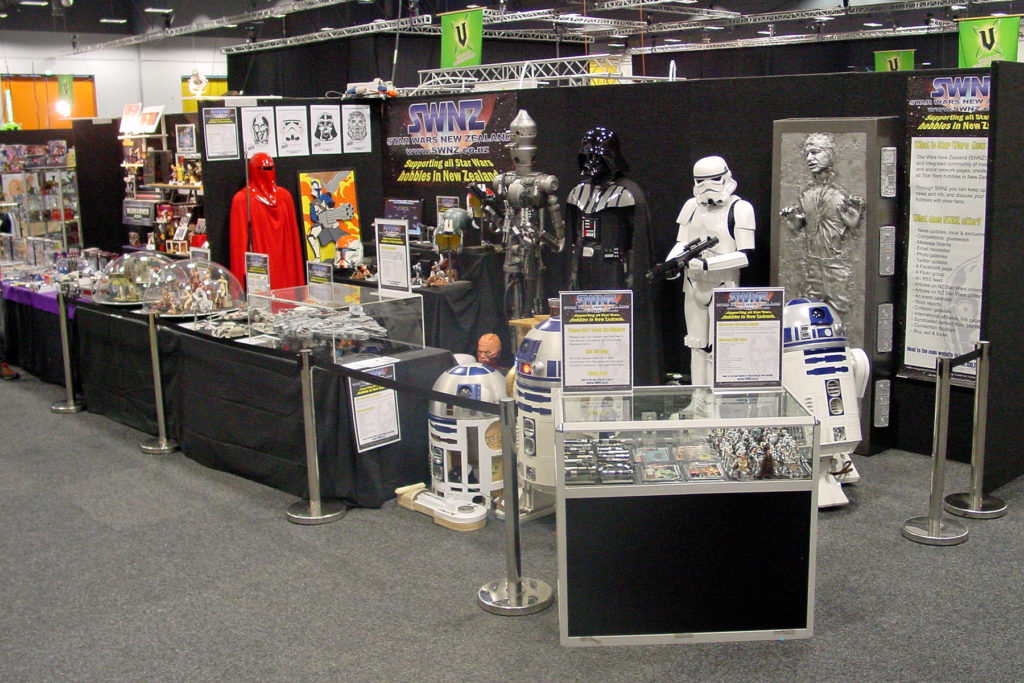 Auckland Armageddon Expo 2010 marked SWNZ's return to convention appearances (2002 was the last time we occupied a booth under our own banner at Armageddon), met all our expectations and goals, and certainly seemed to garner interest from the record-breaking audience. With attendee numbers exceeding those of previous years, there were many instances when we could not see the booths across the aisle from us due to the density of the crowds. As people slowly made their way past, or paused to photograph the display, there were plenty of fans articulating childhood memories of the Toltoys Death Star, or marveling at the engineering of the Lego Millennium Falcon, with its impressive specifications (over 5,000 pieces, weighing in at 10kg). The Star Wars New Zealand booth also included a Slave Leia-themed collection, helmets, blasters, full-size and mini lightsabers, new and vintage action figures, crocheted characters, life-sized Imperials and Han Solo encased in carbonite, and three astromechs. The exhibition items were contributed by many participants, who hopefully enjoyed being able to get their prized collection pieces out on public diplay – thanks go out to Kristy, Barry, Freddy, Tarry, Hadleigh, Rob (+ Rory and Cass for their valuable assistance), Peter, Craig, Sarah, Carl, and Dean.
More dealers occupied a greater floor space than last year, but, to be honest, I was so busy with the SWNZ stand that there were some areas of the expo that I didn't get to venture in to and examine in sufficient detail. The path I traveled the most was the direct line between the corner of the main pavilion that housed SWNZ and Reel Collectibles, and the combined 501st Legion/Rebel Legion costuming stand. Along that route, I encountered a number of dealers and stores with Star Wars stock – Reel Collectibles had lightsabers, Acme artwork, eFX stormtrooper helmets (which they sold out of, but you can preorder on their website), and other collectibles, there were a few with older action figures, Toyworld, who rotated in different stock each day, had some great pricing, and who had the exclusive Jodo Kast figure available, and Whitcoulls, from whom I picked up the just-released "Making of The Empire Strikes Back" book for the very good price of $75. Consequently, particularly when I now look back at my selection of photos taken, I came away from the expo with the feeling that there was measurably greater Star Wars representation than there has been in years past. The other interesting development was the trend towards greater fan involvement, with local Star Wars, Star Trek, and Doctor Who fan clubs having an official presence.
In all regards, we enjoyed putting on a collaborative display to demonstrate the range of Star Wars hobbies in New Zealand, and hope the audience found it interesting as well. Let us know if you'd like to see an SWNZ stand at Armageddon in the future (Wellington is the next North Island event, on 9-10th April 2011, and the next Auckland event is four days, from 28-31st October 2011)…or, even better, let the Armageddon organisers know (Twitter: @ArmageddonExpo, Facebook).
Discuss this article in the SWNZ Message Boards