Hasbro 2010 Product Line Announcement
The following Hasbro press release reveals details of imminent action-figures, vehicles and role-playing products which will be showing up in stores very shortly (from August). Stay tuned to SWNZ for a new competition, this week, featuring exciting Hasbro Star Wars prizes from these 2010 lines. We'll also be taking a closer look at some of the toys and collectibles, with photos galore!
HASBRO STAR WARS 2010 TOY LINE CAPTURES THE EXCITEMENT AND ADVENTURE OF POPULAR STAR WARS: THE CLONE WARS ANIMATED SERIES. Hasbro Also Celebrates 30 Anniversary of THE EMPIRE STRIKES BACK with a dramatic re-imagining of iconic AT-AT vehicle.
The FORCE remains strong at Hasbro which continues to bring all the action, battles and fantasy of STAR WARS to life with a full array of toys and games. In 2010, STAR WARS fans can celebrate the launch of the second season of the highly-rated STAR WARS: THE CLONE WARS animated series with toys that replicate the battles between the Galactic Republic and the Confederacy of Independent Systems. This year, Hasbro also commemorates the 30 anniversary of fan-favourite Star Wars: Episode V The Empire Strikes Back with toys, special packaging and promotions that recreate the excitement fans experienced when the film stormed into theaters "a long time ago."
Stomping onto the scene in 2010 is the new STAR WARS AT-AT (All Terrain Armored Transport), which captures the size and power of this seemingly impenetrable Imperial vehicle prominently featured in Episode V. Hasbro's design team packed this vehicle with a mind-blowing array of features! Large enough to hold up to 20 action figures (sold separately) inside, the exceptionally detailed vehicle features LED lights, authentic movie phrases, projectile-firing cannons, a deployable speeder bike, and even a retractable zip-line in its belly to recreate one of LUKE SKYWALKER's signature scenes from the movie. Despite YODA's declaration in the movie that "size matters not," fans will agree that this largest-ever AT-AT vehicle is a great way to bring home the action from THE EMPIRE STRIKES BACK.
2010 is the year of the LIGHTSABER! Kid-favourite villain GENERAL GRIEVOUS, introduced initially in the live-action films and prominently featured as the villain in the STAR WARS: THE CLONE WARS animated series, has put his own twist on the noble weapon of the JEDI by spinning multiple LIGHTSABERS simultaneously. Utilizing completely new technology, the new STAR WARS GENERAL GRIEVOUS LIGHTSABER allows kids to have the power of the dark side warrior's signature move by spinning two LIGHTSABERS in one hand.
The mysterious Boba Fett played a key role in the original STAR WARS trilogy, firmly establishing him as a favourite villain for generations of fans. For the first time ever, kids can pretend to be this legendary bounty hunter with the new BOBA FETT HELMET, which features key phrases from the STAR WARS trilogy and includes a light-up tracking scope.
Star Wars products available soon:
STAR WARS 3.75 INCH VINTAGE ACTION FIGURES
(RRP: $19.99; Ages: 4 & up; Available: August 2010)
In 2010, Hasbro is taking STAR WARS fans back to "a long time ago, in a galaxy far, far away" with 28 STAR WARS 3.75 inch VINTAGE ACTION FIGURES. The selection includes all-time favourite characters from throughout the six-film Saga, such as LUKE SKYWALKER, 4-LOM, DENGAR and HAN SOLO. Each of the figures in this assortment will feature the exceptionally accurate design and superb articulation customary to Hasbro's action figures, and they will be offered in packaging reminiscent to that of the original 1978-1984 STAR WARS packaging!
STAR WARS AT-AT
(RRP: $299.99; Ages: 5 & up; Available: August 2010)
In space, size does matter, and Hasbro certainly kept that in mind when creating its all-new, highly detailed STAR WARS AT-AT. The AT-AT (All Terrain Armored Transport) played a significant role in the Empire's military assault in THE EMPIRE STRIKES BACK, and it will play an equally important role in every fan's toy collection this year! Measuring more than 60cms tall, over 70cms long, and over 30cms wide, this colossal vehicle holds up to 20 STAR WARS figures – 6 of which can fit in its head alone! – and includes so many play and electronic features true to its on-screen counterpart that it's hard to believe! From the zip-line in its body and articulated legs for superb poseability, to its LED lights and authentic movie sounds and phrases, this is the must-have addition for STAR WARS fans of all ages. Includes a 3.75 inch AT-AT driver action figure and a pop-out speeder bike.
STAR WARS BOBA FETT HELMET
(RRP: $94.99; Ages: 4 & up; Available: August 2010)
Show off your bounty hunting skills like Boba Fett, the greatest bounty hunter in the galaxy, with the STAR WARS BOBA FETT HELMET. Impressively designed and styled, the STAR WARS BOBA FETT HELMET allows children to pretend to be their favourite bounty hunter as featured in both the movie THE EMPIRE STRIKES BACK and the new animated series STAR WARS: THE CLONE WARS. The helmet also features electronic sounds and phrases and a light-up tracking scope!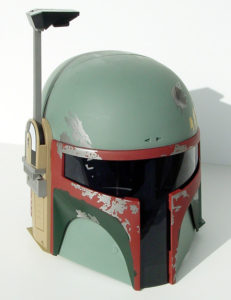 STAR WARS GENERAL GRIEVOUS LIGHTSABER
(RRP: $89.99; Ages: 6 & up; Available: August 2010)
JEDI warriors have long recognized the prowess of GENERAL GRIEVOUS as a highly skilled, elusive and often multiple-LIGHTSABER-wielding adversary. Now, kids can engage in LIGHTSABER battles just like this powerful cyborg with the new STAR WARS: THE CLONE WARS GENERAL GRIEVOUS LIGHTSABER. Battle with the power of GENERAL GRIEVOUS by spinning the two LIGHTSABERS simultaneously in one hand, take out the spinner and connect the two LIGHTSABERS for double-bladed LIGHTSABER action, or use the two separately to ward off an opponent. Both LIGHTSABERS include electronic lights and battle sounds!

Discuss this article in the SWNZ Message Boards.