SWNZ Abroad – DragonCon 2009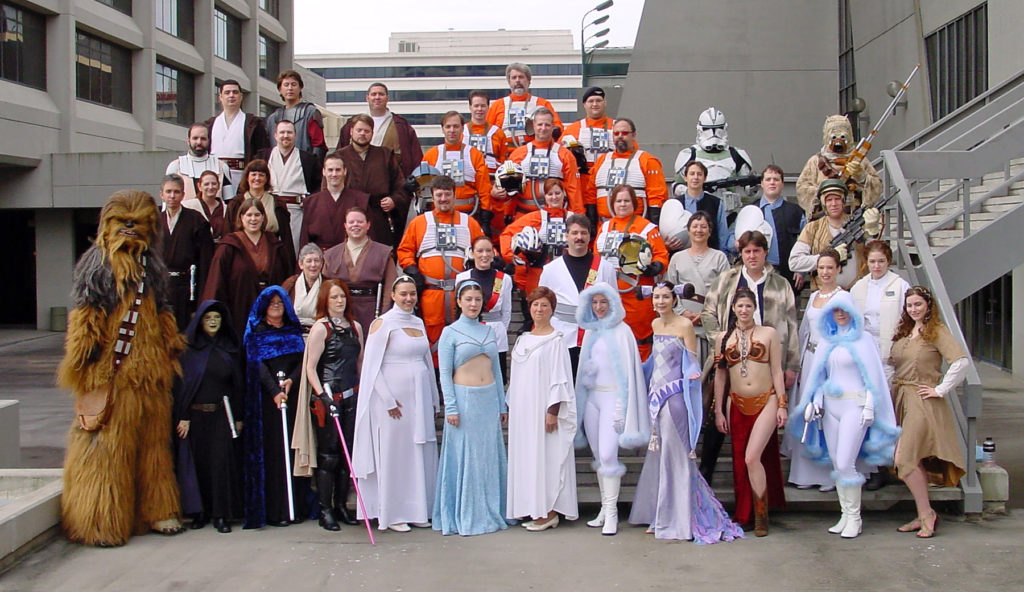 DragonCon is the United States' largest (and probably the world's largest) "multi-media, popular culture convention focusing on science fiction and fantasy, gaming, comics, literature, art, music, and film". The real theme that shines through, tying these genres together, is costuming, and one of the core components of this annual event is the Saturday costume parade down the main streets of Atlanta.
DragonCon is spread over four neighbouring hotels (with rumours of a fifth being added in 2010), most of which are joined together directly, and through shopping malls, by "sky-walks". The convention programming is a mix of official DragonCon events, and information and entertainment opportunities put on by a wide array of fan organisations. All imaginable genres and hobbies are represented, including Star Wars, Stargate, Star Trek, Battlestar Galactica… MMORPGs, British Sci-Fi, American Sci-Fi Classics, Anime/Manga, Science, Skeptics, Space/Astronomy, Tolkien's Middle Earth, Whedon Universe, Live Concerts, Independent Film & Festival, Animation, etc, etc, etc! Over 500 celebrity guests were present to sign autographs, pose for photos and present at joint and individual panels.
In excess of 30,000 attendees partied their way through nearly 24 hours-per-day of costuming, socialising, shopping and people-watching. The dealers/exhibitors hall are only open during normal, "daylight" hours, but if your time on the convention floor is limited to that portion of the day, you'll miss out on more than half of that which DragonCon has to offer. Panels we managed to attend included a Q and A session with Battlestar Galactica actors; a discussion on the topic of skepticism and realism in science-fiction media, including, as a panelist, Mythbusters star Adam Savage; and Steve Sansweet presenting on the "Future of Star Wars".
Steve fulfilled his role as Head of Fan Relations at Lucasfilm by elaborating details about the "Star Wars in Concert" event, the "Clone Wars Republic Heroes" video game (will be on all consoles, and will utilise the same voice actors as the TV series…more at JoinTheCloneWars.com), "The Force Unleashed: Ultimate Sith Edition" (a "What if the Dark Side won?" set of scenarios which include original trilogy characters and planets/environments), and the "Old Republic" MMORPG. We also heard that we can expect a 2012 airdate for the live action television series (no casting or filming information out yet…anything you've heard is pure speculation!), and that, even at the time of writing, there is no firm date or location for next year's Celebration V convention (much to Steve's dismay…it's all awaiting the prerequisite contract with the convention organiser to be finalised). To be honest, there weren't too many revelations amongst that material, for those who closely monitor the online world of Star Wars news websites…but he did wrap things up with eye-candy in the form of the Clone Wars season two trailers on the big screen. Season two, "Rise of the Bounty Hunters", premieres very shortly (Oct 2 in the US), and scripts are in development for season three. A boxed set compiling all 22 episodes of season one (current boxed sets in stores now amalgamate 5-6 episodes each) will debut November 3rd (Blu-Ray and DVD), with plenty of extras.
While he had command of the projectors and big screens, Sansweet shared a video from the Offical 2009 Star Wars Fan Movie Challenge (hosted by Atom Films) – specifically, the "George Lucas Selects Award" winner, "Star Wars: Retold (By Someone Who Hasn't Seen It)". You can view that clip yourself here, at AtomFilms.com – much good humour! There was time for a few questions at the end of the session. Amongst those, the most interesting was an inquiry about the likelihood of an "Ultimate" boxed set of all Star Wars movies – Steve intimated that this was likely, although no date has been set. The intention would be for such a set to be available on both standard-def DVD and Blu-Ray.
We invested time beforehand familiarising ourselves with the convention programming guide, but inevitably, as everything was run in parallel, we had to prioritise and miss out on many scheduled events in order to try and make the most of our time. That's just a necessity with DragonCon though, not a source of regret. Our non-Star Wars highlight was photo opportunity with classic Star Trek heroes William Shatner and Leonard Nimoy. The other memorable feature of DragonCon is that it is a real-world nexus for many online costuming and hobby-related communities, such as the 501st Legion Imperial costuming group, and the Rebel Legion costuming group. We've put together a Flickr Gallery of images that include pics from the Rebel Legion photoshoot, as well as of 501st members and other Star Wars costumers (click here). For a wider look at DragonCon (beyond the Star Wars-specific photos), you might like to review the Flickr collection here.
It would be wrong to say that DragonCon is a "once in a lifetime" experience – after your first attendance, you quickly realise that it is impossible to go only once. Check back on Star Wars New Zealand next year for a DC 2010 report!