Where Science Meets Imagination Exhibition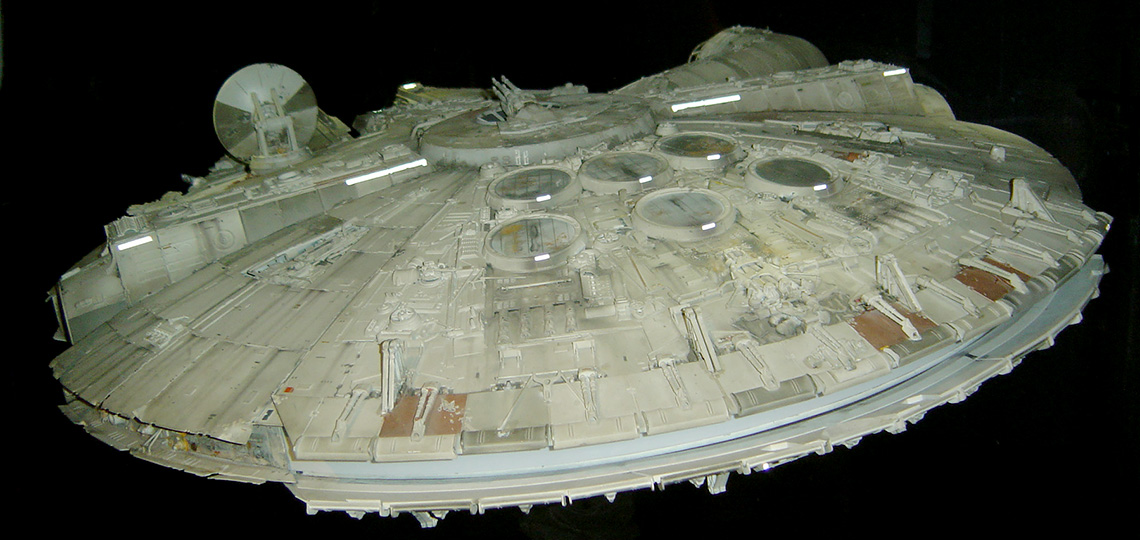 The Where Science Meets Imagination event is a traveling Star Wars museum exposition, featuring over eighty props and costumes from the Lucasfilm Archives – spanning all six films – that started in October 2005 and, initially, moved around the United States. Although it didn't make it to New Zealand, it came pretty close, setting up at one non-US venue – the Powerhouse museum in Sydney, Australia (from December 2008 through to April 2009).
In the not too distant past, displays of actual Star Wars props and costumes were rare events. The Art of Star Wars, in the United Kingdom, opened the door on such behind-the-scene treasures from 2000-2002, and the Magic of Myth exposition traveled the US for a number of years before a final stop in Sydney in late 2002. Now, items from the Lucasfilm archives are shown all around the world at a number of different types of events, including more touring exhibitions, fashion shows (eg, the FIDM Museum Dressing a Galaxy costume extravaganza), and conventions such as Celebration III and Celebration IV. Where Science Meets Imagination continues in that tradition, but has been officially described as not focusing on Star Wars per se; rather, "…it's about our world, and our future…Star Wars: Where Science Meets Imagination uses the science fantasy of the Star Wars films to inspire us to examine different future possibilities, even if they may seem impossibilities today."
There is some overlap between the items on show at WSMI and the previous Magic of Myth exhibition…but where pieces have previously been displayed in public, the repetition is more than forgivable as we are talking about some of the most iconic props, models and costumes of the Original Trilogy – Han Solo's full A New Hope ensemble, the gigantic studio scale Millennium Falcon, and the imposing black form of Darth Vader, to name a few. Plenty of new treasure too, though, ranging from small sculpts and maquettes, on which digital models were based, to life-sized vehicles like Luke's Tatooine landspeeder.
The WSMI experience is broken in to two sections – transportation, and robotics. "Robotics" has been interpreted loosely to encompass droids, cybernetics, and medical prosthetics. This section of the exhibition also includes costumes, tools and weapons, and walking machines. The displays include a large animated conversation between C-3PO and a robot designer, which introduces the visitor to the current state of real-world robotics. Also inspected through props, comparisons and narrative are such concepts as robot vision, human-robot relationships, artificial intelligence, and a behind-the-scenes look at "bringing movie robots to life".
The life-sized droids, from both trilogies, encountered are a particular treat – revealing the full level of detail and effort behind such characters as The Empire Strikes Back's medical robots 2-1B and FX-7, the "naked" version of C-3PO from The Phantom Menace and a 1:1 scale Droideka (although most of their on-screen presence was computer generated).
The entry to the second floor of the exhibition illustrates the engineering behind pioneering transport modalities such as Paul Moller's VTOL (vertical takeoff and landing) M400 Skycars, and Scaled Composite's SpaceShip One, to conceptual technology such as the British Interplanetary Society's thermonuclear-propelled Daedalus proposition, Bussard's Ramjet of the 1960s (a fusion-powered engine fueled by hydrogen collected by it's thousands-of-kilometers-wide magnetic scoop), and matter/antimatter propulsion systems. These realistic or realised technologies are compared against the transportation tools and designs of the Star Wars universe.
The display-pieces from the Lucasfilm Archives include freighters, fighters, frigates, personal transport, luxury yachts and racing pods characterised by their obscene power-to-weight ratios. Some of the studio-scale models from the Original Trilogy are, obviously, over 3 decades old, so it's a real treat to have these works of art still accessible for public viewing. And, although it was a childhood dream to fly the trenches of the Death Star in an X-wing fighter, or wander the galaxy in the Millennium Falcon, there's still something undeniably iconic about the Lars Landspeeder (but why was it pink?)…the presence of a life-sized version of this vehicle is a rare occurrence for a southern-hemisphere event.
There are also representative items from the Prequel Trilogy, ranging from the maquette scale, such as the developmental models that digital models were based upon, through to studio-scale monsters including an AAT Trade Federation Tank, and Sebulba's uber-detailed episode 1 Pod Racer.
If you are reading this at the time of publication, then you still have a month to consider visiting the Powerhouse Museum to see this wonderful exhibition in person.