Jay Laga'aia Wants More Star Wars Work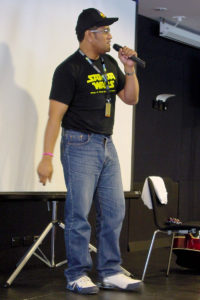 Stuff.co.nz is reporting that "Kiwi actor Jay Laga'aia is talking to George Lucas about a role in a live action Star Wars television series next year.
Lucas, one of the richest and most powerful film-makers in Hollywood, is already familiar with Laga'aia, having cast him as good guy Captain Typho in Star Wars Episode II: Attack of the Clones and Star Wars Episode III: Revenge of the Sith.
The series for United States cable television will follow the Rebel Alliance as it slowly gains strength against the the evil Empire."
Read the full article on Stuff.co.nz/../Kiwi-eyes-role-in-Star-Wars.
Related article: Jay Laga'aia biography