Star Wars Insider no.107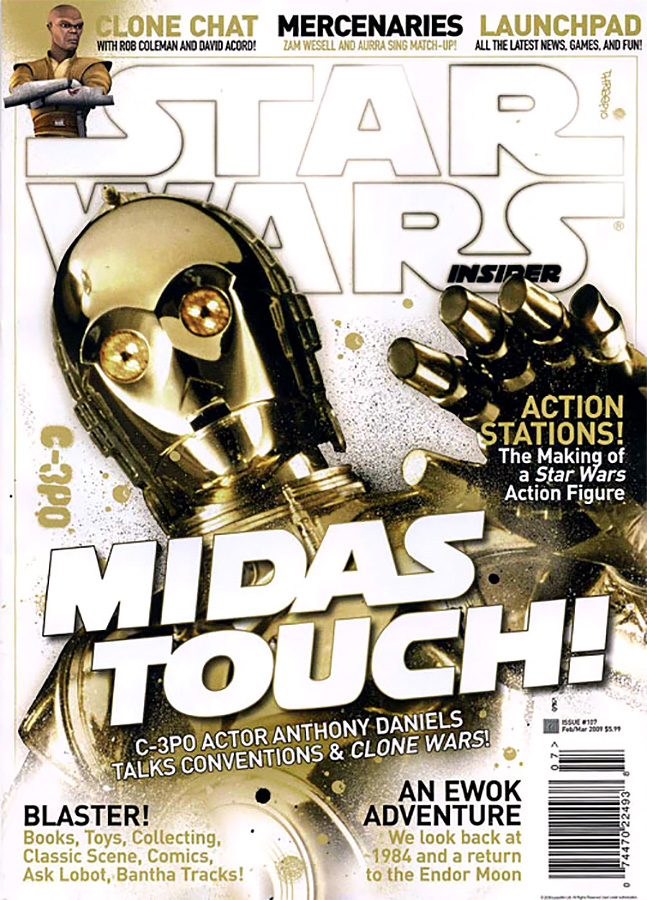 The February 2009 issue of the Star Wars Insider (no.83 for the UK edition, no.107 for the US edition) is hitting bookshop shelves and subscribers' mailboxes. This time around, it includes an extended article on Anthony Daniels – C-3PO himself, a feature interview with Clone Wars animation supervisor Rob Coleman (well known for his work on the Star Wars prequels), and a flashback installment that reviews the events of 1984 (…theatrical release of Caravan of Courage: an Ewok Adventure). One of my favourite pieces is a "peek behind the toymaker's curtain" – this is an article that manages trump the internet sources and debut images and design sketches of some of the action figures that we can expect to see in toy stores in 2009.
If you want a closer look, you can review some sample pages on the magazine's official facebook.com page for this issue.
If you're not a subscriber yet, both the US (TitanMagazines.com) and UK (TitanMagazines.co.uk) Titan Magazines websites accept subscriptions to New Zealand addresses. At the time of writing though, it looks like all subscriptions are now routed through to the UK website, and the price is confirmed at the time of writing to be £37.95, to get it shipped from the UK (with the fluctuating exchange rate at the moment, this represents a price of about NZ$105) – for this you get "6 issues including 2 special issues".