The Clone Wars – Upcoming Hasbro Products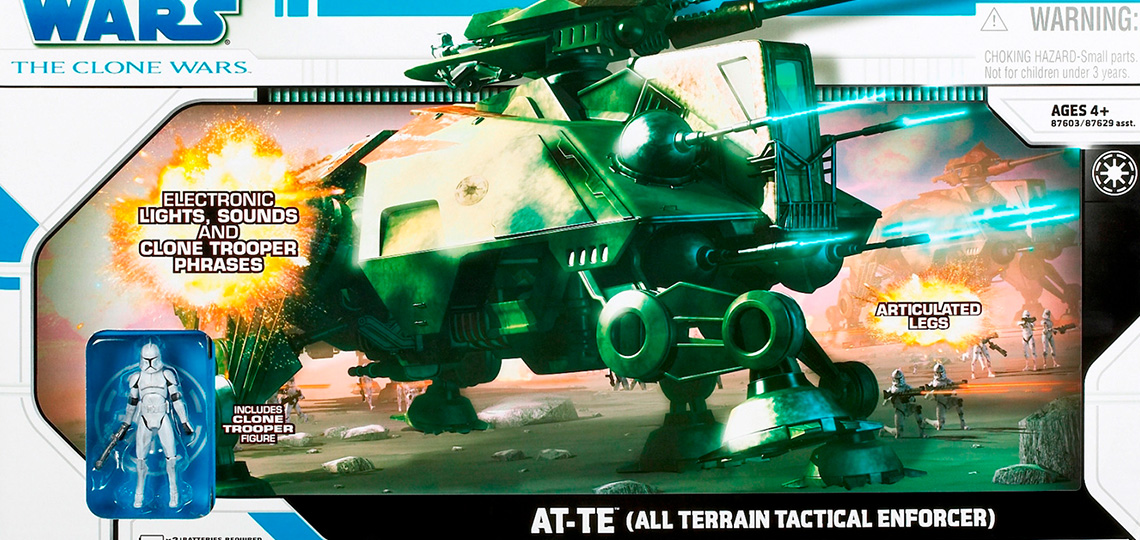 The new Clone Wars and Legacy Collection toys from Hasbro hit the stores this Friday. SWNZ has received details, pictures and pricing on these new collectibles, from Hasbro…let's take a look at some of the merchandise we can expect to see on the shelves very shortly (pricing may vary…stay tuned for store reports from around the country).
CLONE TROOPER HELMET
SRP $69.99 (Ages 5 and up).
Join the army of heroic clone troopers by donning an authentic CLONE TROOPER HELMET. Includes signature phrases and awesome voice amplifier to truly disguise your identity. Listen out for our own Temeura Morrison!
CLONE WARS ULTIMATE LIGHTSABER
SRP $99.99 (Ages 6 and up).
The STAR WARS CLONE WARS ULTIMATE LIGHTSABER set allows young padawans the opportunity to create more than a thousand different lightsaber combinations using the customization components, including signature Jedi lightsabers from STAR WARS: THE CLONE WARS.
AT-TE VEHICLE (All Terrain – Tactical Enforcer)
SRP $249.99 (Ages 4 and up).
Star Wars fans and collectors will travel at light-speed to toy stores for the chance to take the new six-legged CLONE WARS vehicle for a spin. Measuring two feet long, the AT-TE can transport an amazing 20 clone troopers and is packed with galactic sounds and firing features.
3.75-inch CLONE WARS BASIC FIGURES
SRP $19.99 (Ages 4 and up).
On 1st August, Star Wars fans will be introduced to the first new wave of characters based on STAR WARS: THE CLONE WARS. Each figure has an exciting action feature. In 2008, a total of 28 different action figures will be launched.
FORCE ACTION LIGHTSABER
SRP $64.99 (ages 3 and up).
The lightsaber is the ultimate weapon of the heroic. Force action lightsabers are spring activated, extending to over 60cm long. Features power activation humming sound, and flowing arc-wave energy blade. Available in Obi-Wan Kenobi, Anakin Skywalker, Force Unleashed and Darth Vader options.
3.75-inch BASIC FIGURES DROID FACTORY
SRP $19.99 (ages 4 and up).
Collect and build a never-before-created droid action figure with every new wave of "Droid Factory" figures. Beginning in August, one part of the unique droid will be packaged with each action figure. A total of 30 figures will be released in 2008, with seven unique droids that kids of all ages can collect, build and combine.
GALACTIC HEROES (2 Pack)
SRP $11.99 (ages 3 and up).
The Star Wars Galactic Heroes figures have arrived in a galaxy near you! Hugely collectible, and fun to play with! The Galactic Hero packs include 2 x 2″ figures of all your favourite Star Wars characters – at a great price. Fantastic for kids and collectors alike.
STAR WARS MILLENNIUM FALCON
SRP $299.99 (ages 4 and up).
The fastest ship in the galaxy! Piloted by Han Solo and Chewbacca, the Falcon packs powerful secrets and special modifications inside and out. The Millennium Falcon is back! Over 2-1/2 feet long, and packed full of features for action and adventure.
Light up headlights
Light up cockpit which can fit up to 4 figures
Medical bay
Secret smuggling compartments
Auto-opening boarding ramp
Pivoting gummer station
Movie phrases and sounds + light up hyperdrive
Firing missiles
Minifighter
Training probe with lightsaber sounds
Light up dejarik table
The following are the launch event details for each region.
Auckland
Star Wars: The Clone Wars celebration Auckland event:
Friday August 1st from 7.30am to 9am at
Toyworld Sylvia Park
286 Mt Wellington Highway
Mt Wellington
Wellington
Star Wars: The Clone Wars celebration Wellington event:
Friday August 1st from 7.30am to 9am at
Toyworld
20-24 Balance Street
Wellington CBD
Christchurch
Star Wars: The Clone Wars celebration Christchurch event:
Friday August 1st from 7.30am to 9am at
Toyworld Tower Junction
Shop 5 Clarence Street
Riccarton