Quick Review – 'Art of Star Wars' 2008 Calendar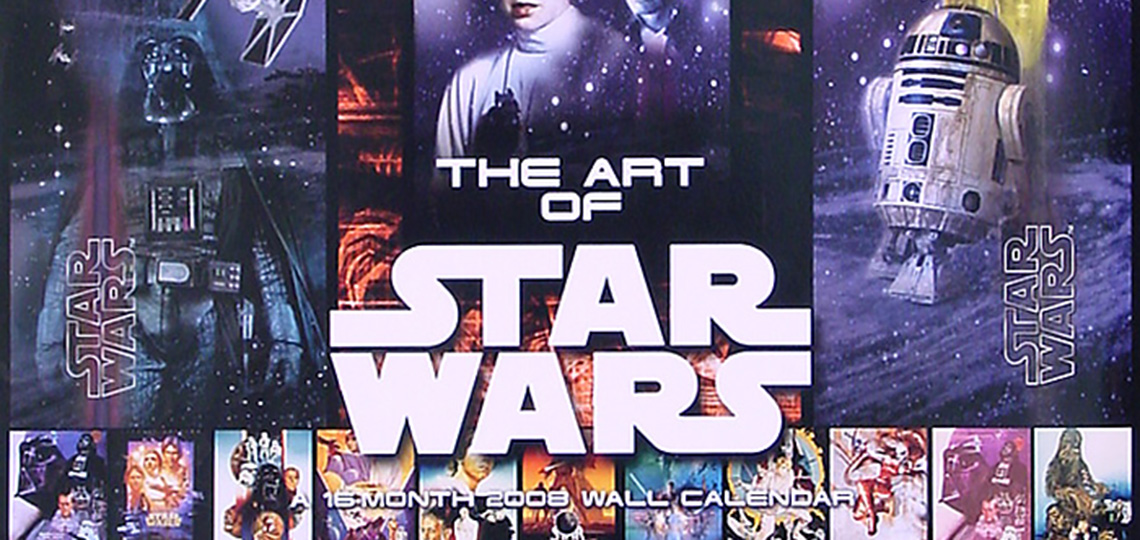 The Calendar Club stalls in many malls around the country at this time of the year currently have a couple of Star Wars calendars for sale. One, the 'Art of Star Wars' 2008 Calendar, is a nice collection of new and classic artwork from the entire saga, and comes with a DVD of bonus material (at a price of $27.99). Although it advertises itself as a 16 month calendar, it actually only comes with 13 leaves…the last 4 months of 2007 make up a single page.
The posters depicted for each month come from a variety of artists and sources, including Boris Vallejo, Tsueno Sanda, the vintage Fan Club Death Star trench scene by Ralph McQuarrie, and artwork from Hasbro Unleashed packaging. A fantastic assortment. A minor disappointment, however, is that the monthly illustrations cross over the page seam, meaning they can't be removed intact to be used as posters at the end of the year – ah well, you still get at least 365 days of enjoyment out of it while the calendar is in use.
The included bonus DVD contains movie trailers (EP1 A, EP1 B, EP2 'Mystery', EP2 'Clone', EP3 teaser, EP3 launch, EP4 teaser, EP4 launch, EP5 teaser, EP5 launch, EP6 teaser and EP6 launch – they are the original theatrical trailers…a great bonus) and the Star Wars: Revenge of the Brick "mini-movie".