Celebration 4, Day 4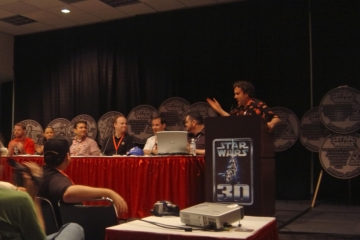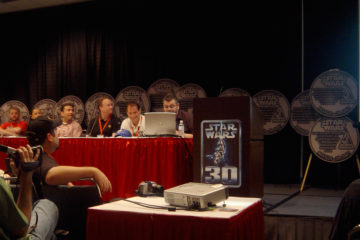 Sunday 27th May was the fourth day of the C-IV convention. A couple of scheduled events defined the day for me in particular – the International Collecting Panel in the morning, at which I presented on New Zealand collectibles, and a second costume pageant in the afternoon (2 costume pageants/competitions were run this time around, due to popular demand).
The collecting panels are an array of presentations covering all imaginable aspects of Star Wars collecting, from the common, to the very obscure, including next-to-impossible-to-get collectibles like unproduced or pre-production concept pieces. Speakers tend to make very good use of photos in their slideshows, giving the audience an opportunity to see items from many private collections. As an apt bonus, collectible medallions, limited to runs of 350 per piece, were handed out to audience members during randomly selected presentations. The twelve designs were inspired by the twelve very first Star Wars action figures released by Kenner. These are not mere coins, but are large, weighty pieces of cast metal that fully deserve to be referred to as medallions. The limited available numbers meant they have already become very sought after, with full sets in particular fetching high bids on eBay.
I was again involved in a joint panel on International Collecting, covering those items and promotions exclusive to New Zealand (focusing on the Original Trilogy years, 1977-1984). I'm a big fan of international collectibles, particularly foreign-language (non-English, to be less ethnocentric) items, so was very pleased to be involved in this panel and to form part of the audience as the other panel members covered off unique items from Australia, Peru, Mexico, Japan, England, United Kingdom, Canada and Japan. As a thoroughly well-received bonus, presenters received full set of the collectible medallions, finished in gold to distinguish them from the pewter versions, as an expression of gratitude for their participation.
Costuming is a large and growing part of the Star Wars Celebration events. Just walking around it's impossible to miss the hundreds of detailed, unique and inspirational costumes made and worn by fans. Most do it for fun, but when m any hours of research and work go in to a hobby, there is inevitably an element of good-natured competitiveness…the Celebration Costume Pageants cater to this and allow people to get up on stage to show off their creations. Increased popularity, amongst both the audience and entrants, meant that 2 pageants and a parade (the latter with no judging/prizes) were run in order to expand the showcasing of costumes. Not everyone necessarily agreed with the judges decisions in each of the pageants, but an audience-judged round at the conclusion of the pageant determined the overall winner…in the second stage-show, it was satisfying and appropriate to see that Chewbacca can receive a congratulatory medal if the competition adjudicator reaches up carefully enough. A meticulously crafted and impressively tall Wookiee took away the best-in-show award for the second day event.
In conclusion, and as an appendix to the report covering the Opening Ceremonies, I've included a few pictures relating to the Star Wars USPS stamps. As most are aware, the Star Wars 41c stamps are available in the United States on a sheet of 15. Jedi Master Yoda won the popularity vote to become the only one of those 15 to be released individually. In a very convenient move, USPS had shops within the convention centre to both allow people to ship straight home their many convention purchases, but also to make available the Star Wars stamps and associated merchandise. Amongst the philatelic collectibles were first day covers, which were actually given out to all attendees of the Celebration Opening Ceremony, and which contained a programme for that evening's schedule – it is very cool that they bear the date of release which is also the 30th anniversary of the Los Angeles/United States Star Wars premiere.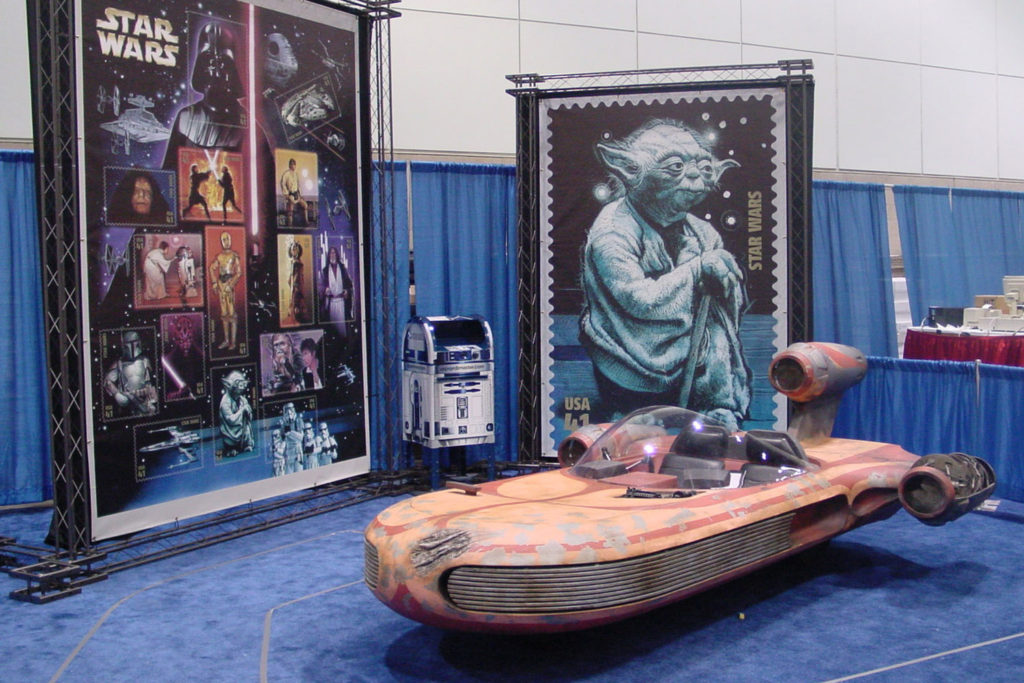 Stay tuned for a final Celebration IV installment and wrap-up! For an album full of more of our images from the week of Star Wars, click here.