Armageddon Wellington 2007 Report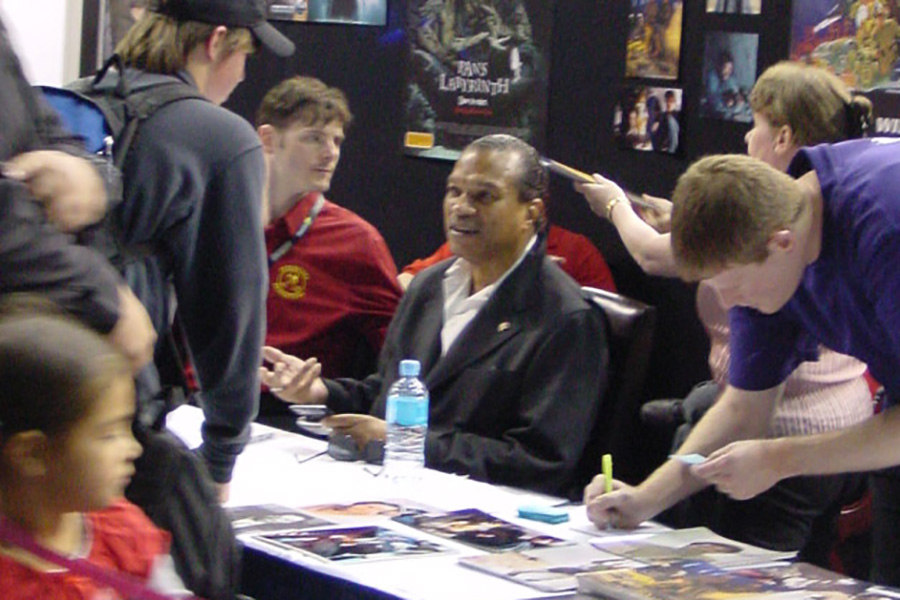 The Wellington Armageddon convention really seems to have found its groove. Maybe it was because I was there with family and lots of good friends, but I found this year's event to be one of the best that our capital has hosted. "WellyGeddon" has quite a different feel to the Auckland Armageddon expos, but I like them both, and often attend both, for that very reason.
The weekend was memorable, in particular, for a great selection of guests, a decent amount of merchandise, all laid out in a fairly accesible floorplan, and cool costumed characters making their way around the centre.
The New Zealand 501st contingent, Outpost-42, had a stand/backdrop at the entrance of the Queens Wharf Event Centre, and worked with other Star Wars and big-screen costuming groups and individuals to provide all sort of interesting photo opportunities. In addition to the 501st's official presence and the cosplay entrants, there also seemed to be a growing number of fans turning up in costume just for the fun of it. On a number of occasions, there were as many as 8 or 9 Star Wars characters in one place, with a greater total number in attendance, posing for photos – plenty of cross-genre gatherings were also spotted!
Merchandise from many categories was available for purchase. Reel Collectibles had a very visually-enticing stand, at which they had for sale a number of new items…animation artwork from Acme Studios, Star Wars statues and large-scale figures from all the high-end manufacturers, and plenty of other cult-classic goodness. ToyWorld had their "mega-sale" which focused heavily on the new Transformers products, but which also featured the latest (for NZ) wave of Star Wars Hasbro figures (I picked up the McQuarrie concept Boba Fett, and the Vader with collectible coin album, for example). Weta Collectibles had statues and art at heavily-reduced prices, and drew an even bigger crowd when Richard Taylor turned up on the Sunday, and obligingly penned his autograph on many items, to the delight of collectors.
Everybody knew that Lando Calrissian was going to be at the Armageddon convention – this was a rare opportunity to get the autograph of one of the Original Trilogy's big names, Billy Dee Williams, here in New Zealand (not forgetting some of his other roles, of course, like district attorney Harvey Dent in Tim Burton's Batman). Armageddon veterans John Rhys Davies (Lord of the Rings, Indiana Jones, to name a few) and Don Davis (Stargate SG1) seemed to enjoy interacting with the fans, and a few new faces like Aaron Douglas (Battlestar Galactica) and Doug Jones (Hellboy, Fantastic Four 2) drew some enthusiastic crowds.
That's just the tip of the iceberg though – Armageddon totally took over the weekend with its stores and sales, competitions and tournaments, comic and animation guests. Less than 6 months to go until the next one!