Reel Collectibles Review – Gentle Giant Cantina Bookends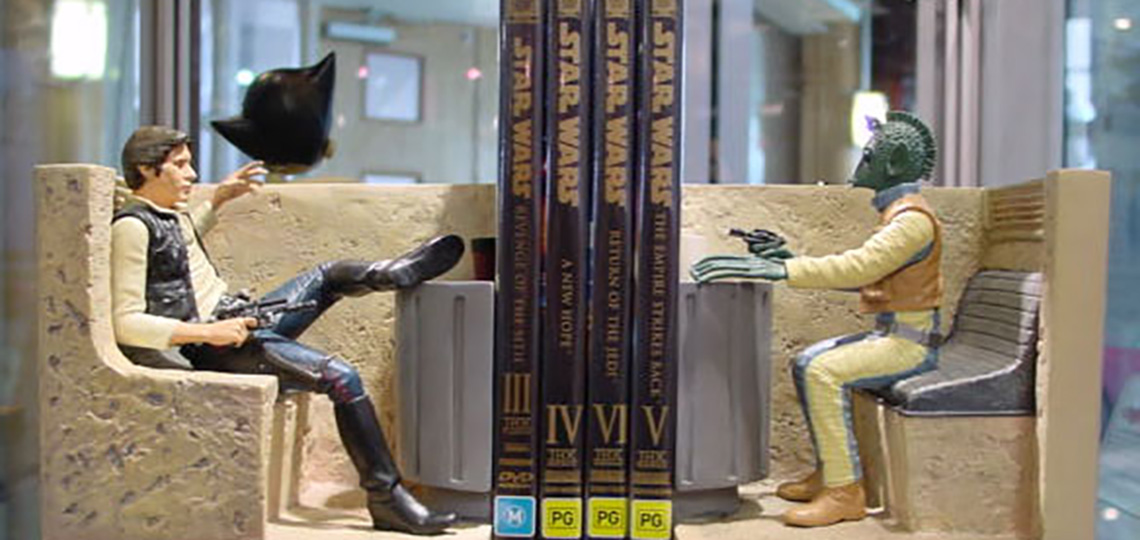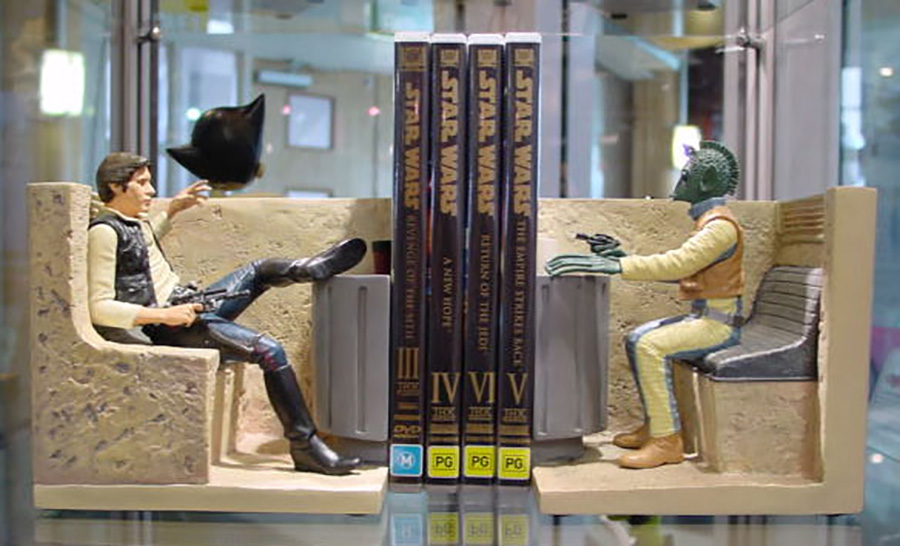 This review just in from SWNZ affiliate ReelCollectibles.co.nz: Gentle Giant's Mos Eisley Cantina Han Solo & Greedo bookends.
These bookends arrived in our last shipment of stock and are one of the first collectibles to arrive in NZ with the Star Wars 30th Anniversary logo. I've always liked bookends as collectibles. Not only do you have a cool Polystone hand painted collectible that weighs a bunch, it's functional! Collectible bookends like these (plus the LOTR, Narnia & Kong sets) look awesome on a shelf holding up your DVD's, books or whatever.
Ever since I read about the release of these they were a must-have for my personal collection. SW, Bookends, Original Trilogy… you get the drift. Gentle Giants have done a very nice job of these and I am not disappointed with my wait. Like the Gentle Giants Balrog Statue, these have a the new 2 tone colour boxing and the 30th anniversary logo. There's some very fine sculpting in each bookend, in the likes of Greedo's hands and fingers, and the attention to detail is very good. Anyone who's seen the GG Han Solo bust will know how good the likeness of Han Solo is, this is arguably better as we have the full length Han here and his laid back slouchy attitude is perfectly represented in this piece. The lamp and even Han's drink are on the table as they should be. They've even managed to sculpt Greedo so that the seat cushion he is sitting on appears to be squished under his weight.
The bookends in general have a nice weight to them (important to hold up those DVD box sets) and the sides and back have a velvety material on them which is a nice touch.
These are limited to only 3500 sets worldwide and available now from Reel Collectibles. Click here for ordering info.
Contributed by Hugh Clark.