Armageddon Wellington 2006 Report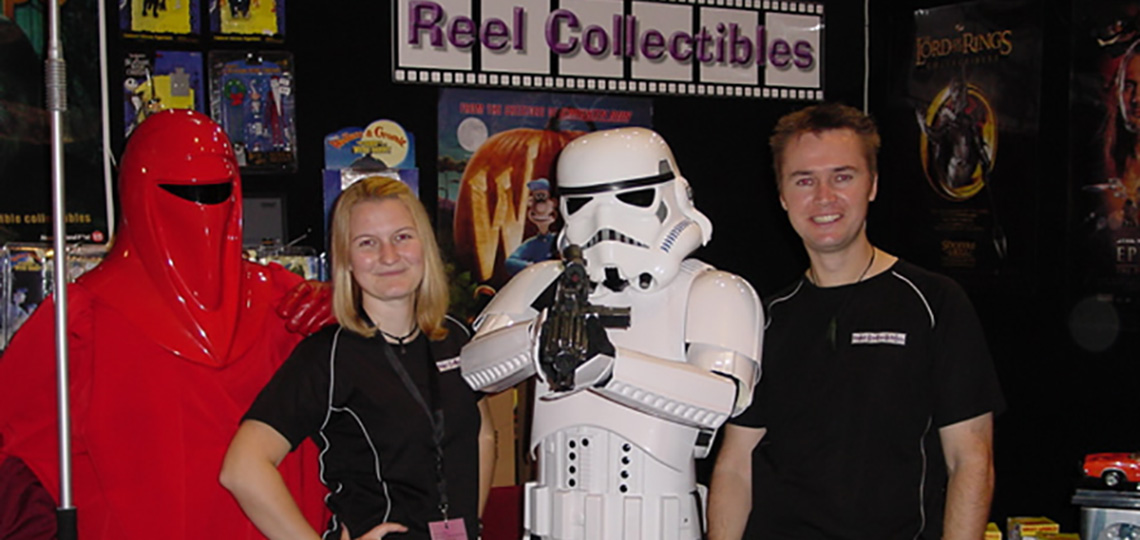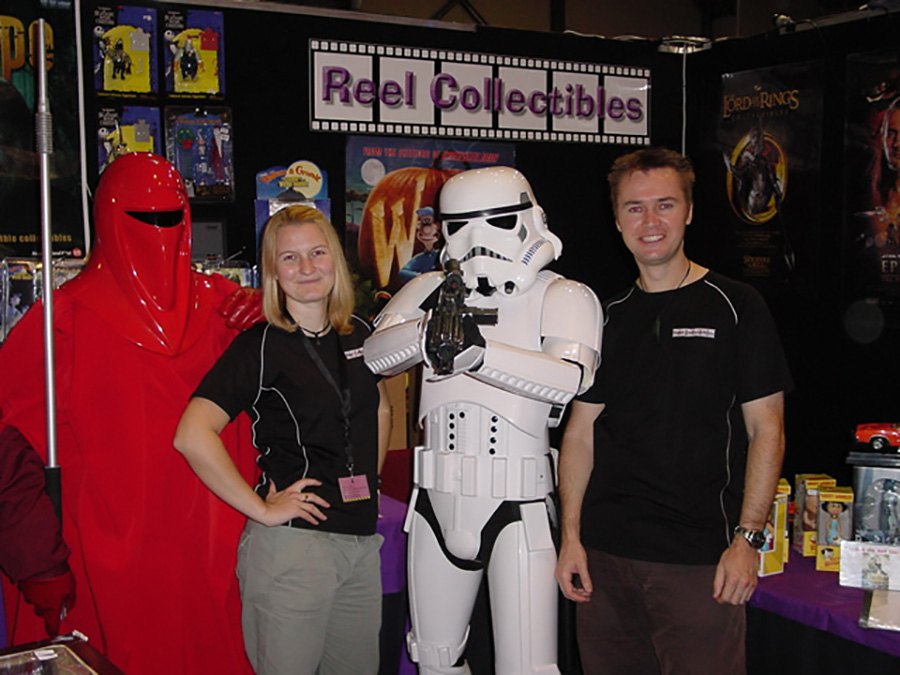 Armageddon Wellington Report from Reel Collectibles.
Whilst running the Reel Collectibles stall we don't get much of a chance to explore the rest of the expo (this always seems to be the case!), but by all accounts the 2006 Wellington Armageddon Pulp Culture was another highly successful and fun event.
The 501st had a great turnout with a number of troopers, Boba Fett, a Royal Guard and Darth Maul all trooping at one time or another, and more impressively, all together! The highlight was Dean in Darth Maul costume being handed the brand new double bladed Maul FX saber by Reel Collectibles to run about the expo with, which he did very successfully, even disrupting Richard Taylor of Weta's talk – Sorry Richard!
Whilst a couple of the celebrity signings dropped out due to work commitments, arguably the main celebrity John Schneider of Smallville and Dukes of Hazzard fame more than made up for it with friendly enthusiasm and just being a generally down to earth nice guy. We were lucky enough to get shipped from overseas 2 General Lee Die Cast replicas (they turned up on the Saturday, can't get much closer than that!) which he duly signed, our personal one is now displayed in the store here in Queenstown. Once signed, the other lasted about an hour before it was snapped up by a collector. The Star Wars Fan film was shown also, but once again due to stall commitments we weren't able to view it and I understand many of the troopers were kitting up at this time also.
Being a Star Wars Fan 1st, a collector 2nd and owner of Reel Collectibles 3rd, I was stoked to be able to showcase some of the new Star Wars products for the very first time in NZ. First up was the above mentioned Darth Maul Double Bladed FX Saber by Master Replicas. This double pack comes with 2 'battle damaged' single bladed sabers, which with a coupler can be joined together to make the double bladed version. All the detailing and authenticity you come to expect from MR was evident and Dean was well impressed with this one, as were most of the fans who went snap happy. We had a full range of the FX sabers at the stall and most sold out by mid-Sunday.
Next up was the premiere of the Sideshow 12″ Jedi Luke, first off the line in their new 12″ line. The packaging on this one is awesome, a full coloured display box that folds out with 4 separate panels inside, and the accessories and detail on this are also extremely good.
The Gentle Giants Darth Maul Statue also made its NZ premiere, the pose on this one is very cool, it is Maul as he first appears to Obi-Wan and Qui-Gonn on Naboo, in that come and get me pose. One of the best facial details I have yet seen on a Maul statue.
Probably my favourite though, and the pieces that I have personally been waiting for ever since they were announced, are the Sideshow Premium Format 1/4 Scale Vader and matching Obi-Wan statues. In the 2.5 years that I have been running Reel Collectibles, these are probably the best statues I have ever come across. The closest cool thing you could get to it at the moment may be the LOTR Sauron Statue or Large Kong vs V-rex, that's the sort of coolness we are talking about. Now admittedly, being a SW fan, I could be a bit biased here, but at Armageddon it took me about an hour to get over the fact that I, Hugh, not some minion, had just unfurled Vader's satin lined fully tailored cloak and clasped it around his shoulders. All of Vader's bodysuit is actual Vinyl, all of Obi-Wan's clothing is tailored, his belt real leather with metal belt buckle. And now for the best part. Flick the switches and both sabers light up, as well as Vader's Chest and Belt boxes. These are definitely, as mentioned, museum quality pieces. So cool
Being avid readers of the SWNZ website, mention SWNZ in any order and Reel Collectibles always has special deals in place for SWNZ fans & members.
Speaking of which, we have a few too many Darth Taters, so our current SWNZ special on them is $25 shipped anywhere in NZ. All the other Collectibles mentioned above are available right now, just drop me an email for a quote on anything from our site.
Contributed by Hugh Clark.