Auckland Armageddon Expo 2005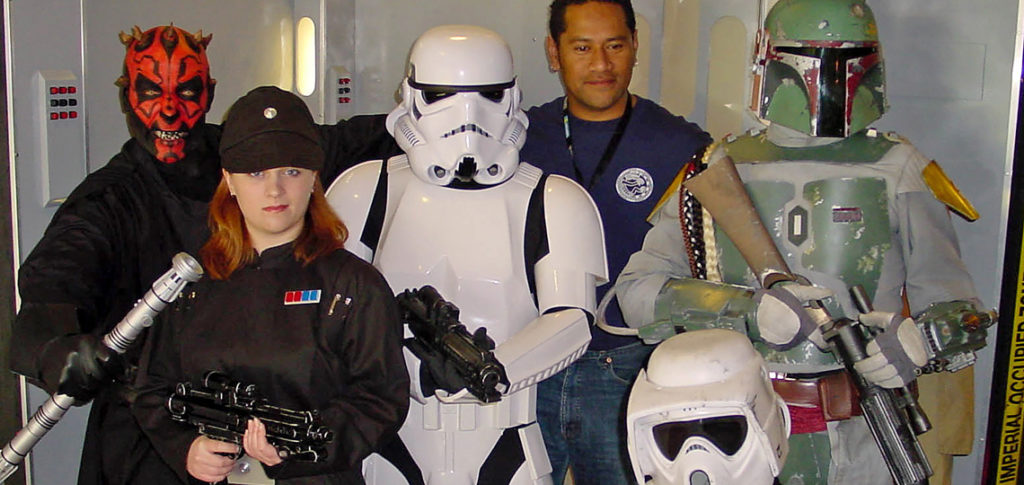 Armageddon Auckland, over the 2005 Labour weekend, featured all the usual comic, toy and electronic gadget stalls – interesting highlights included high-end 'Kong' collectibles from Weta, cheap posters galore, and plenty of bargains such as Star Wars t-shirts for $3 each.
Star Wars fandom was in full effect with the Outpost-42 Death Star set in place as a backdrop for photographs with costumed 501st members. At their peak, the Outpost-42 stand hosted 11 members in armour or costume – Darth Maul, Boba Fett, a Jawa, a Biker Scout, an Imperial Officer, Stormtroopers and Sandtroopers delighted attendees of all ages and backgrounds, and, in wandering around the convention, became the subject of literally thousands of photos. Early on Saturday, troops arrested and hussled fans from the entry queues, getting them in through the doors expeditiously and entertainingly.
Celebrity guests included Jay Laga'aia (himself an honorary 501st member), Richard Hatch (from both the original and new Battlestar Galactica series), Gates McFadden (Star Trek TNG), Cliff Simon (Stargate SG1), Torri Higginson (Stargate Atlantis), and many others. Jay visited the Outpost-42 set, allowing a few excellent photo opportunities.
Without a doubt, interest and passion for Star Wars is still alive and kicking. Armageddon Auckland will be a tough act to top… but we'll do our best to contribute. See you in Wellington next year!
Auckland Armageddon 2005