Celebration 3 Diary, Day 4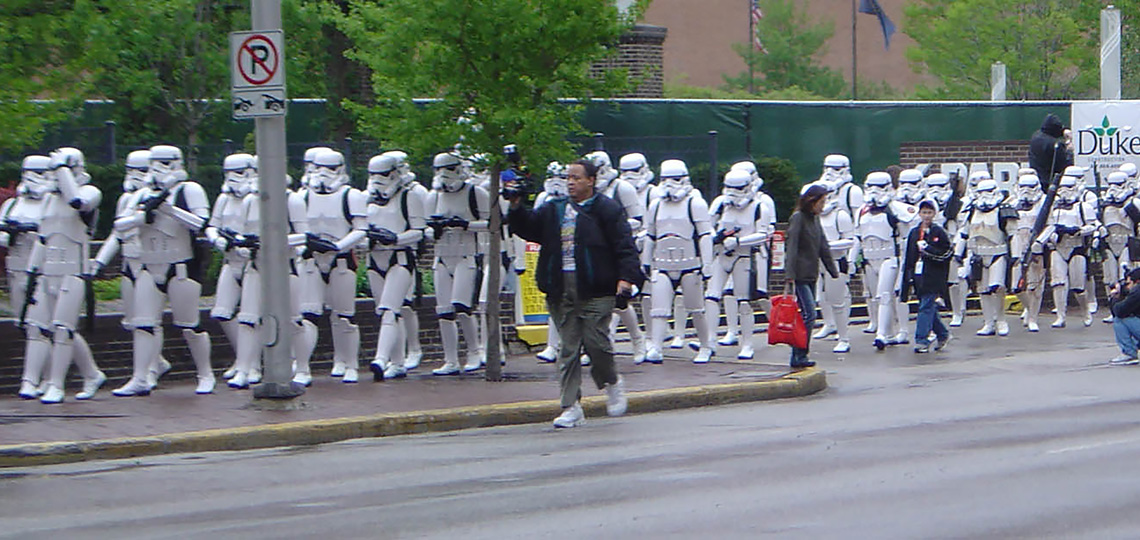 What do four hundred-odd Imperial troops look like marching in formation down a public street? It's hard to convey using still images, but hopefully the first 15 images (click on the thumbnails) on this page will give you a bit of an idea. The effect of seeing this much white armour and other Imperial costumes pounding the street certainly has hyped me up to wear my armour at the pending 'Revenge of the Sith' Charity Premiere. (I wish I could have bought my armour to have been part of this parade, but alas, my itinerary and budget wasn't ideally suited to it). The sight was an absolutely perfect highlight for the closing day. When Jay Laga'aia heard they were in the building, he rushed off to don a Captain Typho outfit he had handy, in order to pose with the troops.
Being the last day, with slightly shorter hours, today was the ideal day to do a little shopping. As the day crept towards closing time, the traders who were keen to take as little home as possible started progressively reducing their prices. We basically picked up as much as customs and airline baggage restrictions would permit without adding too much additional cost. So much free stuff will be coming home with us, not to mention the autographs, photos and memories, that buying more collectibles was hardly necessary… but hey, who can resist?
Sigh, back to reality tomorrow. As mentioned earlier, however, once I sort through the gigabyte of images I have on my laptop, I'll be posting more pics and feature articles that'll be sure to interest New Zealand and international viewers.
Check out the rest of our Celebration 3 coverage and photos at the Celebration 3 2005 tag.