Celebration 3 Diary, Day 3
Today seemed to be mainly about meeting Star Wars celebrities. New Zealanders Daniel Logan and Temuera Morrison, Episode 1 star Jake Lloyd, and droid master Don Bies. But the day opened with a scheduled event that made the evening news – the rare public appearance, and question session, no less, of the flanneled one, George Lucas!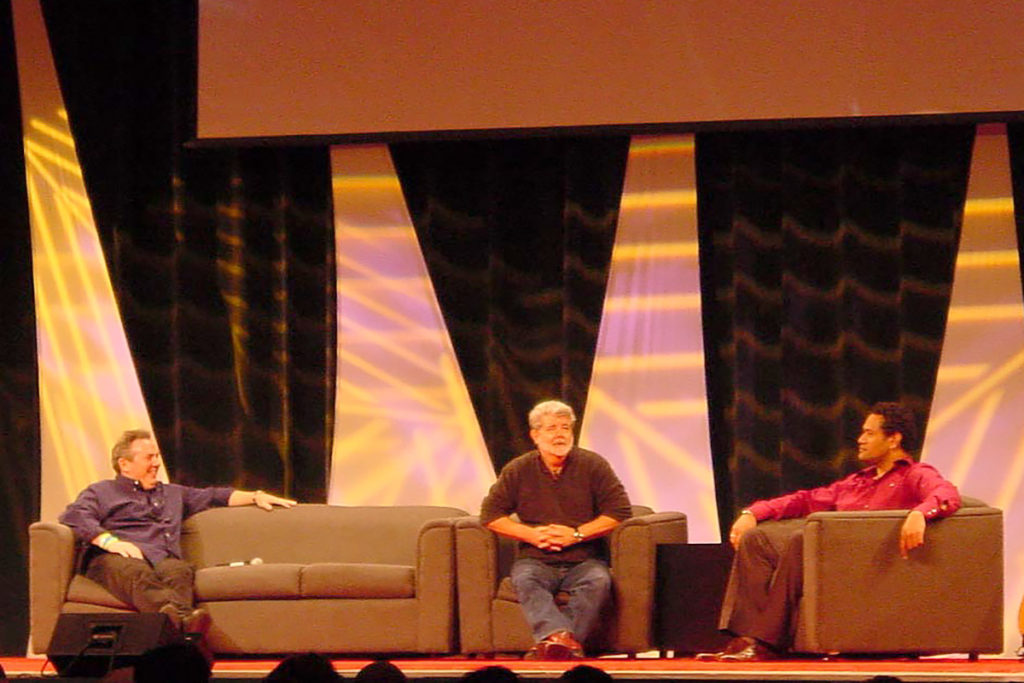 First thing this morning, George worked his way through 3 half-hour sessions of five thousand fans each. Queues for this limited entry event started some time during the night, but with a combination of volunteer passes and serendipity, we got centre-stage seats for this memorable interview with only about 20 minutes wait. George's interview session was hosted by Jay Laga'aia, and the two were joined on stage by prequel producer Rick McCallum, who had stayed on longer from his attendance yesterday. George's responses to questions from the audience made up the bulk of the show. Among the more important/interesting information shared were the following:
Live-action Star Wars television series? Oh yes! Set between Episodes 3 and 4!! George's response: "…it doesn't involve any main characters from the other films…oh, when I think about it, technically, maybe it does…".
'Indiana Jones 4'? George's repsonse: "I've recieved the script, and will read it over the weekend, then will be meeting Steven [Spielberg] on Monday".
Any more 'Willow' movies? Having been talking to Willow star and Star Wars Celebration 3 host Warwick Davis earlier, George intimated that a follow-up television series was being considered.
If you had a lightsaber, what colour would it be? George's response: "I guess I'd have both a red one and a blue one, a bit of a collection like General Grievous, and the colour would depend on how I felt on the day".
If you were a Star Wars character, who would you be? George's response: "R2-D2! He's the real hero…he's the one who has all the tricks and always saves everyone at the last moment".
It was over all too soon, but will go down as one of the many highlights of the conference – well, one of the biggest lifetime Star Wars-related highlights of all fans of the franchise in attendance.
Next I had a couple more autographs to collect – New Zealanders Temuera Morrison and Daniel Logan. In chatting with the former, he confirmed that his documentary/magazine show will debut on Prime TV in July. Even wandering between planned events is entertaining, as a consequence, as mentioned already, of costumed fans. Some are impressive for their accuracy and detail…others for their creativity or whimsy. Check out the Light-side Vader above! Some destinations are completely queue-free, and worth coming back to. On the way to the autograph hall, we stopped by the 'fan hall' again, where the stands put on by fan groups from around the world, are housed. We managed to snap a combined group of Imperial and Rebel pilots posing against the life-size X-wing, and caught the latest developments at the diorama-building stand.
In the afternoon, I was involved in the collecting panels presentations, talking with other presenters on International Collecting. Representatives from Australia, Canada, France, New Zealand, Japan, Mexico, and the United Kingdom each gave very different presentations highlighting collectibles from and aspects of collecting in their respective countries of origin. This was great fun and fantastically interesting – a pleasure to be part of. The New Zealand material covered focused on collectibles, advertising and product wrappers from the Tip-Top ice-cream company, and can be found in the NZ Collection section of the SWNZ website.
Jet lag and sleep deprivation was starting to catch up on us by the end of the day, but not enough to stop us attending a special session (after the general close of the convention) with Don Bies, the lead of the team behind R2-D2 and other Star Wars robots, with the R2-Builders group in their display room. Don has also stepped in to character costumes on a number of occasions – he played Boba Fett in all the Original Trilogy Special Edition additions that featured that character. He was also the man beneath the Jango suit for the recent EP3 Vanity Fair fold-out cover. Don showed a slide-presentation covering 30 years of robot-building, right up to and including the EP3 production. And then, to a fully attentive and enthralled audience held an 'R2 weathering workshop', detailing, on the spot, one of the builders group's droids to make it appear more aged and screen-accurate, in the lived-in style of the Star Wars Universe.
I'd love to write more for everybody, but I gotta get some sleep before tomorrow, the final day. Stay tuned… more tomorrow…