Celebration 3 Diary, Day 2
More Celebration 3 pictures? You better believe it! Here is a selection from our adventures on day two of the Star Wars action in Indianapolis. Highlights from my day included meeting three out of the five New Zealand celebrities here, as well as a couple of great Aussies…and, in a separate session, a montage of 'Revenge of the Sith' footage on a full-size theatre screen. You know the drill… more on that later… let me start at the beginning…
The early morning event for Friday was the Rebel Legion group photograph. Although I'm a card-carrying 501st member myself, Anaria is involved in both the Jedi Assembly and the Rebel Legion, and I'll quietly admit that I can be impressed by a well made X-wing pilot costume and helmet. In amongst the group photo are a few very excellent unique/one-off costumes, like an authentic ROTJ Mon Mothma, and an EU Talon Karrde. Not to mention one of a couple of frighteningly good Wookiee costumes at the convention. Unfortunately there was a hint of moisture in the atmosphere, but the light rain and gathering puddles didn't dampen the enthusiasm of the Rebel team.
One of our main objectives of the morning was to work our way through the very popular Celebration 3 Store – the source of all the C3 exclusive and branded merchandise, including the talking EP3 Darth Vader action-figures. I won't admit to how long the queues are for that little detour, nor let slip that the store has to close its door's about half way through the day just to guarantee that everyone in the queue that exists at that time can be served – because I don't want to dwell on the dark side of the convention. All I'll say is that when you inevitably see various people selling their exclusive figure on eBay, it's not just the exclusivity that is driving the price, but the hard yards put in standing in line to purchase it in the first place. But before you go off feeding the auction scalpers, stay tuned to SWNZ over the post-convention period, as one of these electronic figures will feature as an SWNZ competition prize.
Next up on the agenda was a trip to the autograph hall, to work out their efficient system of photo/autograph coupons and metered queues. Along the way, we called in to the Fan Hall, which houses tables, displays and entertainment from fan groups around the world. Also featured is a life-size X-wing, the track for the R2-Builders Droid Races, an AT-AT correctly scaled for 4-inch figures (standing about 1.5 metres tall), and the Vader detailed Viper that is a prize put up by one of the US telecommunications companies for a Star Wars-themed competition.
In the autograph hall I caught up with Bodie Taylor (EP2/EP3 clone troopers), who seemed to be thoroughly enjoying his first convention, and was proving popular amongst autograph collectors for this same reason, and the lovely Rena Owen, who seemed quite pleased to be able to have a chat with us, partly for the sake of hearing a New Zealand accent again. And if those interactions weren't enough, Jay Laga'aia, who was at the convention as a host, not an autographer, stopped by the autograph hall and agreed to sign photos for an hour or so! Our timing couldn't have been better! To round out the package, whilst catching up with Mr Gerald 'Squid Head' Home, he grabbed his celebrity neighbours for a group photo – EP2/EP3 stars, Australian brothers Jesse Jensen (Saesee Tinn) and Zach Jensen (Kit Fisto)! I have to say, despite the long hours the many (50+) celebrity guests are putting in signing their name, and meeting/greeting the fans, all are proving to be thoroughly gregarious and hospitable. One of the feature articles that will follow these C3 Diary installments will cover all of the autographs collected.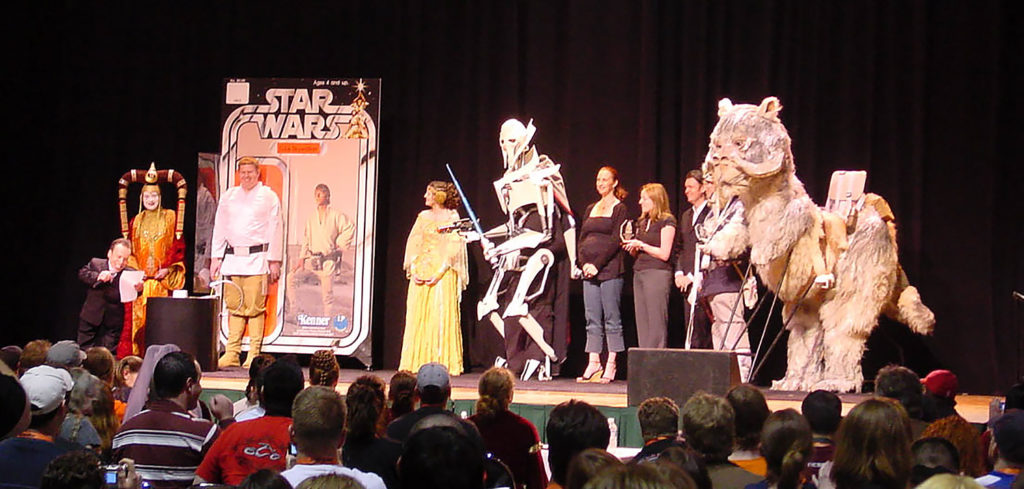 All days so far have provided ample opportunity to spot and photograph costumed fans in their very impressive creations. This afternoon included the C3 costume contest, and as a consequence, some of the more elaborate costumes could were seen wandering around during the day. The costume contest itself was broken donw into 5 categories: children, heroes, villains, Padmes, and the Outer Rim (other aliens and miscellanea). The judging panel included EP3 creature creators, and Shannon McRandle, who can be seen sharing the stage with the winners, contest host Warwick Davis. The Best-in-show was determined by audience applause – it was a tight battle between the hero-category winner, an 8-foot tall, mint-on-card vintage Luke Skywalker (with telescoping lightsaber), and a equally towering giant General Grievous – a complicated contraption driven by a hidden internal puppeteer, who eventually won after a couple of comparative clap-downs.
What more could round out such an intensely Star Wars-filled day? Well… prequel producer Rick McCallum was in the house for Friday only, and was introducing a session of EP3-related footage screened in the on-site, full-sized movie theatre. He took the stage with special effects wizard John Knoll. We went in expecting to see trailer-like scenes, and animatic sequences. That would have been cool, I guess. But no… instead, we were treated to about a ten minute montage of intense, action packed, mind-blowing (enough superlatives?) 'Revenge of the Sith' scenes, sans voice track, but accompanied by a high-amplitude, pumping soundtrack. Don't pre-judge the climactic sixth Star Wars films based on anything you have seen yet, because you will underestimate it. These guys have somehow married the awe of the ANH opening Star Destroyer flyover with the fury of the ROTJ Death Star Battle, into space and land-based battles of unprecedented scale. The technology used leaves all previous instalments for dead – forget the EP2 fight scenes where you can tell the difference between Christopher Lee and his saber-fight stunt double, because in EP3 you'll believe it is Mr Lee or Ian McDiarmid moving like lightning and performing superhuman, force-mediated choreography against their respective on-screen foes. Forget the discernibly CG Yoda of the earlier prequels – you can practically see the pulse in his bloodshot eyes as he fights desperately against his EP3 foe. Just be prepared to be impressed.
And so, that was day two of four. Stay tuned… more tomorrow…
(For more coverage, see articles under the Celebration III tag).