Celebration 3 Diary, Day 1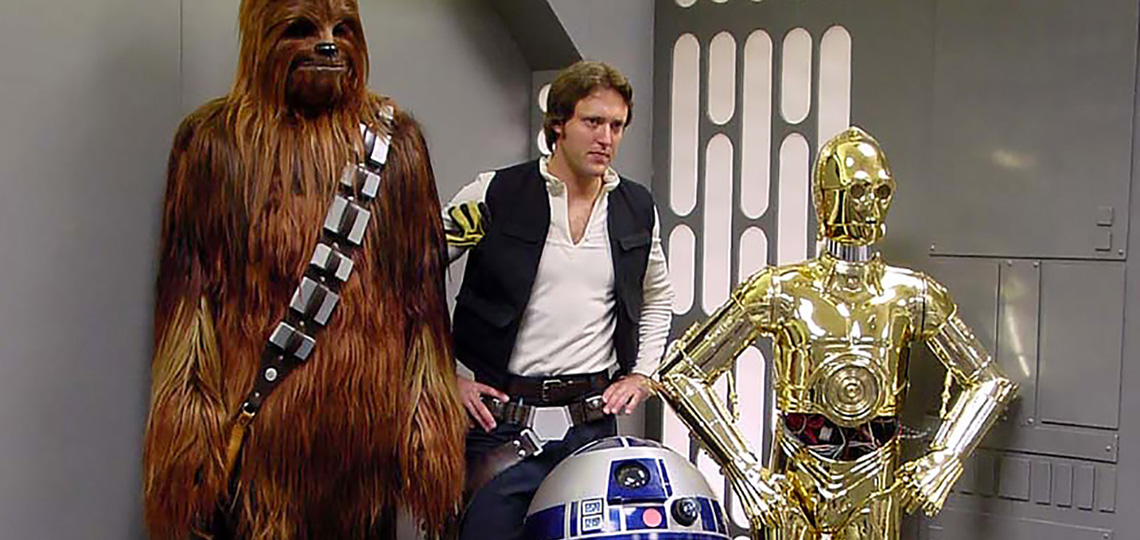 Overwhelming. Unbelievable. Today was so busy, we barely stopped to eat. And talk about a New Zealand-related climax – Jay Laga'aia, Temuera Morrison and Bodie Taylor performing a haka on stage in front of hundreds of fans. I kid you not! …more on that later.
The day started early – there is so much organised by various fan groups outside of the actual Celebration schedule, that the days are very long. At 8:30am, I snapped a few photos of the Jedi Assembly group congregation before heading into the convention proper to upgrade our convention passes to Volunteer passes (which helped us bypass the entry lines, and snap up reserved seating in many presentations…we came along representing a number of online groups, including the R2-Builders, of course, and I am scheduled to be presenting on the Collectors Panels on Saturday). The members of the R2-Builders group have done an amazing job of setting up a very professional looking display of 50-odd robots, complete and under-construction, that it is easy to see why Lucasfilm were keen for their formal involvement. Well, really, the whole convention is amazingly organised for such an immense event – there is so much going on at any one time, so much do do (and buy), and so many dedicated volunteers organising things to really make things run smoothly. Kudos to all!
One of the exhibitions I was very keen to see was an obvious first stop – the Lucasfilm Archives display. Props, costumes and models from the original trilogy, and prequel trilogy, including Episode 3 (keep checking back – after the convention, I'll take the time to put together a feature article and gallery to share the fantastic photos from this highlight). Ep3 Vader, EP3 Wookie costumes, studio scale Millennium Falcon, EP3 Anakin, Obi-Wan and Padme costumes, Landspeeder model, Sandcrawler model, blasters, sabers and equipment. And that's just a start. Click on the thumbnails above for a selection of images.
Onto the next scheduled stageshow. Each of the guests attending the convention gets together with one of the MCs for a talk-show style interactive interview, in a highly organised, multimedia presentation. New Zealand-born Jay Laga'aia happened to host a couple of back-to-back interviews today…the first with Fetts Jeremy Bulloch and Daniel Logan, and the second with EP2/EP3 clones Temuera Morrison (who also played Jango Fett, of course) and Bodie Taylor. Even better, Tem dropped in unannounced during Daniel Logan's slot, meaning, on two separate occasions, there were three New Zealand Star Wars stars on stage (see pics below)! Jay is the consummate entertainer, so his interviews and interactions with all guests flowed in a thoroughly riveting manner, overflowing with spontaneous humour. Particularly when he happened to share the microphone with Temuera Morrison (the two actually hosted an Auckland-based radio show together, a long time ago). Before the audience had time to protest, they sprung into a duet to Laga'aia's guitar accompaniment. And when traditional Māori-weapons-expert, and Republic Clone soldier, Bodie Taylor entered the scene, the three launched into waiata, taiaha demonstrations, and an unprecedented, ferocious haka (as you can see in the photo…the intensity was such that, with camera flashes banned at that stage, it was difficult to capture the action).
Working our way through the crowds of fans and costumed characters of all guises, the next obligatory step was the huge shopping hall. This was a mind-blowing array of licensee and trader stalls covering every collectible conceivable. So much vintage product…some stalls had more carded vintage figures than we would have seen in New Zealand toy-stores during the peak of the Original Trilogy release. A number of the licensees stocked Celebration 3-exclusive product, and others had on display prototypes or early versions of pending collectibles (eg. Sideshow's quarter-scale, 18-inch General Grievous, Master Replicas Stormtrooper helmet). Other impressive displays included the lifesize or studio-scale Lego models, all set in a 5 metre high faux-Lego Death Star.
The convention's opening ceremony was held at the conclusion of the day's scheduled events. As well as intro speeches from various Star Wars big-wigs (including Rick McCallum), and a parade of all Star Wars celebrity guests, attendees were treated to a snippet of video from the upcoming EP3 Soundtrack DVD, which included previously unseen 'Revenge of the Sith' footage that had the crowd erupting into applause. If EP3 lives up to a fraction of the hype it has received here, it'll be the satisfying conclusion to the saga we've all been craving.
I'm sure I missed something out in that superficial summary – we've got a couple of hundred photos from today alone, so I'll be sharing plenty during and after the convention, coming back to anything that requires closer examination. Stay tuned… more tomorrow…
(For more coverage, see articles under the Celebration III tag).