Book Review – Labyrinth of Evil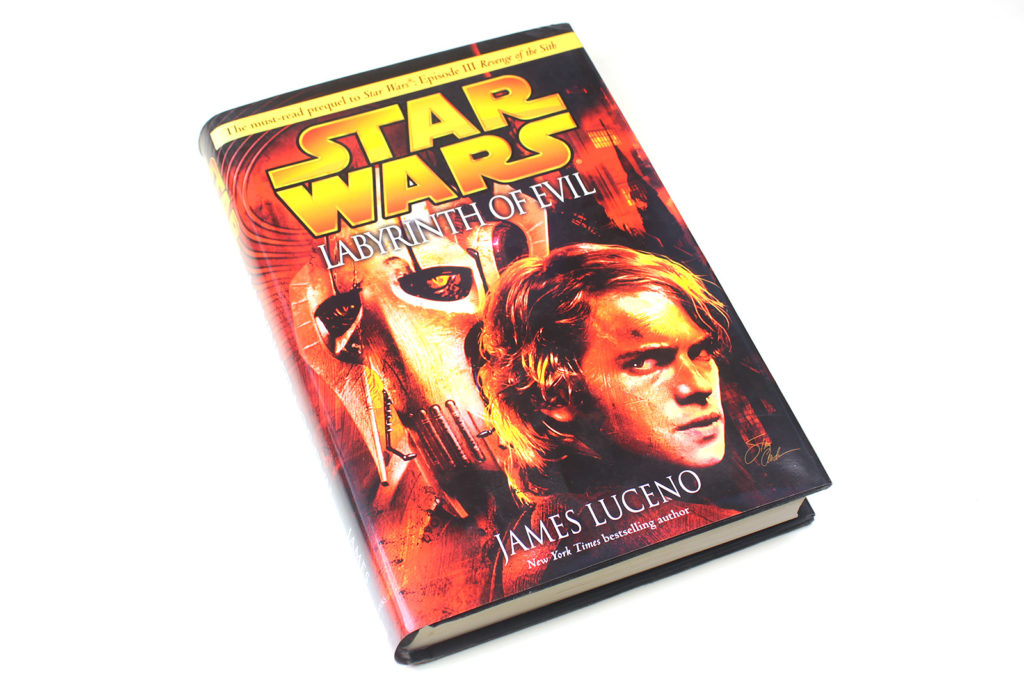 "The must-read prequel to Star Wars: Episode III Revenge of the Sith". So claims the marketing tag-line that adorns James Luceno's 'Labyrinth of Evil'. Normally I'd expect such a boast to represent clichéd hyperbole, but in this instance, I find myself agreeing with the assertion. Not only is this book an excellent read, but it leads directly into Episode 3, detailing events and character backstories in a manner that will undoubtedly heighten the action-packed opening of 'Revenge'.
James Luceno's style and pace is a refreshing contrast to some of the New Jedi Order tomes I've recently struggled through. His chapters are brief and dramatic, in a manner that mirrors Lucas's on-screen tactic of rapid, brusque scene-changes. The book is hard to put down – "Just one more chapter" it begs, each time you try. Indeed, since finishing 'Labyrinth', I have gone back to other works penned by Luceno – he is responsible for the better NJO instalments, including the epic conclusion, 'The Unifying Force', as well as 'The Cloak of Deception', 'Darth Maul: Saboteur', and 'Agents of Chaos', parts 1 and 2.
As an interesting aside, Luceno was a good friend of the late New York Times best-selling author Brian Daley, who wrote the National Public Radio Original Trilogy radio dramatisations, and was behind some of the earliest Star Wars expanded universe novels ('Han Solo at Star's End', 'Han Solo and the Lost Legacy', and 'Han Solo's Revenge'). Daley and Luceno have collaborated on some non-Star Wars publications, under the joint pseudonym Jack McKinney.
The initial action of 'Labyrinth' is constrained to Anakin and Obi-Wan's pursuit of Nute Gunray, whose avaricious inclinations expose, to the Jedi, vital insight into the Separatist leadership. Previously a master-apprentice pair, Kenobi and Skywalker are now council-member and Jedi Knight respectively, but their dialogue and interaction still reflects much of their earlier relationship. Although Anakin's brashness and arrogance grows, his friendship and respect for Obi-Wan remains evident – and his skills so complement those of his previous master, with the wordless communication and anticipation between the pair having been honed to near-faultlessness, that the two compose a formidable partnership.
The chase of Gunray soon unfolds into a journey that carries them tantalisingly close to discovering the identity of Darth Sidious. Parallel plot-lines evolve, with both a Republic task-force, and Obi-Wan along with Anakin, making headway in the Sidious investigation. But with General Grievous manoeuvring the Separatist forces against a key Republic target, time is against them, and the pressure is tangible to the reader.
The final chapter terminates in a cliff-hanger. "To be concluded" the publishers taunt us, in reference to the imminent Episode 3 release. With the key players and their motivations all revealed, and events lined up in a manner that suggests rapid escalation of action is imminent, we can but wait until May 19th. 'Labyrinth of Evil' is indeed "the must-read prequel to Star Wars: Revenge of the Sith".
Labyrinth of Evil is available at Mighty Ape.