Miscellaneous Star Wars Competitions, 1999-2001
Some Star Wars competitions and marketing are memorable because of their scale and/or the collectibility of associated giveaways. Some are memorable because they stem from a time long ago when such things were perhaps less common, and perhaps bore greater significance in our younger minds. Other competitions have been less grand, less pervasive, but still worthy of entries in the New Zealand Collection chronicles, as they nevertheless, undeniably celebrate the local impact of Star Wars, or mark events in New Zealand's Star Wars history.
The following are details gleaned from entry forms from a selection of such contests, from the era between 1999 and 2001. They include the K-Mart "Jedi vs Sith" competition to win one of twenty Star Wars toy packs from Hasbro, the Lego "Galactic Challenge Building Contest", the Lego "Win a Droid" competition to win one of ten Lego Mindstorms Droid Developer kits, and the Raro "Star Wars Promotion" to enter in the draw for the decidedly non-Star Wars prize of a family holiday in Rarotonga.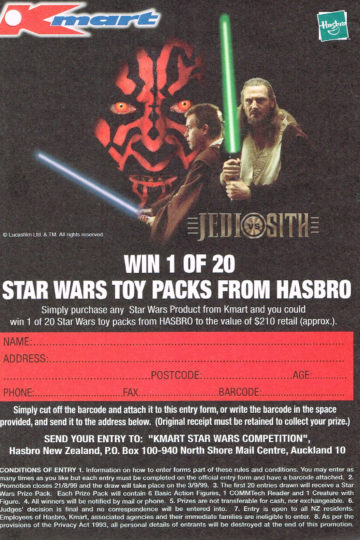 K-Mart :: This competition closed in August of 1999. The timing obviously relates to the release of 'The Phantom Menace', and the short-lived frenzy associated with the (over)-supply of Episode 1 figures and toys. Entry was conditional on the purchase of any Star Wars product from K-Mart (a barcode, or details of the barcode number, were required to accompany the entry form). A random draw determined 20 winners who each received a Hasbro toy pack containing 6 basic figures, 1 COMMTech reader and 1 creature with figure.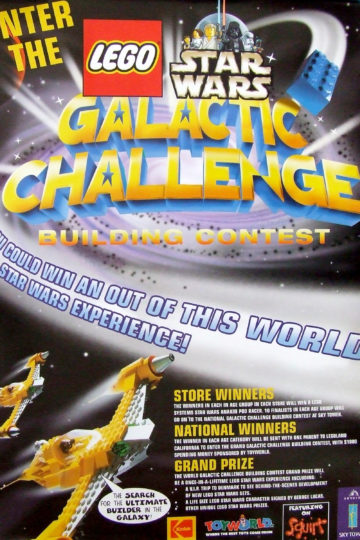 Lego :: Galactic Challenge Building Contest: builders aged 5-16 years could take their Lego creations in to their local Toyworld store (between 18 September and 3 October 1999) in order to vie for Lego System Star Wars Anakin Pod Racer, and a position in the live national judging round in Auckland, February 2000. The Lego constructions needed to be accompanied by a "brief description telling how their creation could improve life on Earth, or in a galaxy far, far away in the next Millennium". The grand prize winner was flown to the international round in California (thanks to Stephen Williams for the image contribution).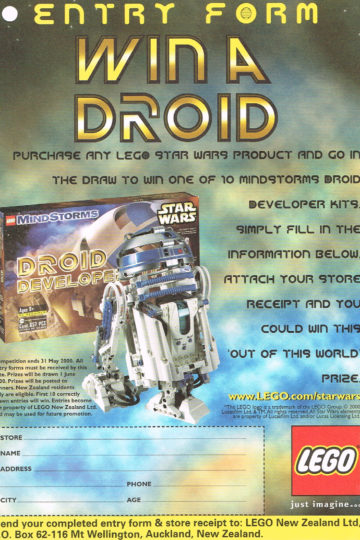 Lego :: In June of the following year, Lego drew 10 names of entrants who had supplied receipts from their recent Star Wars Lego product purchases. Each received the very worthy, "out of this world", prize of a Mindstorms Droid Developer kit.
Raro :: Each Sunday of October 2001, TV3 screened, at 7:30pm, one of the four available Star Wars movies (starting with the Original Trilogy in the correct order, but concluding with Episode 1). Raro's concurrent "Star Wars Promotion" strangely bore little reference to Star Wars, apart from a subtle reminder of the television movie screenings on the front of the entry form, a single imprint of the Star Wars logo, and an entry-qualifying question: "who was C-3PO's sidekick?" A set of posters more clearly conveyed Raro's sponsorship of the Star Wars movie screenings.