Vintage 'Empire Strikes Back' Cardback, 1982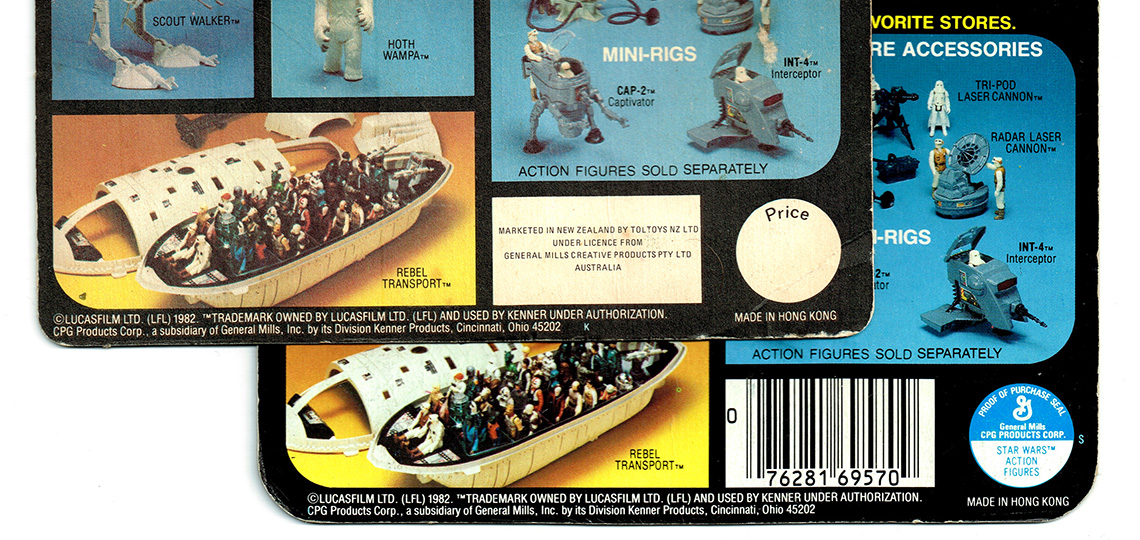 Editor's note: this article has been updated with new information and photos. Check it out here – Vintage New Zealand Action Figure Cardbacks.
Nowadays, the backing cards of most international Star Wars figures, and related (Hasbro) toys, have the contact details of all regional offices, although all originate from a single source, in Hong Kong (the exception to this rule are those distributed in non-English speaking or bilingual countries). A quick trip in the 'way-back' machine reveals a world of vintage figure cardbacks and toys with regional variations ranging from the subtle to the very obvious, attributable in the large part to the much more fragmented licensing arrangements in place at that time.
John Kellerman's recent book, "Star Wars Vintage Action Figures" has photographic evidence of one of the few examples I have seen of a vintage figure cardback unique to New Zealand. The rear face of a '48-back' Empire Strikes Back card, from 1982, has had the barcode replaced with a label that reads "Marketed in New Zealand by Toltoys NZ Ltd, under licence from General Mills Creative Products Ltd, Australia", and the circular graphic beside it replaced with a blank/white circle for pricing information. The cardbacks and figure were presumably manufactured in Hong Kong, but the replacement printing was applied locally. It is interesting that this only seems to have taken place in for small number of cardbacks/figures, as most cardbacks in New Zealand collections bear no differences from their US counterparts.