FAO Schwarz, New York & Chicago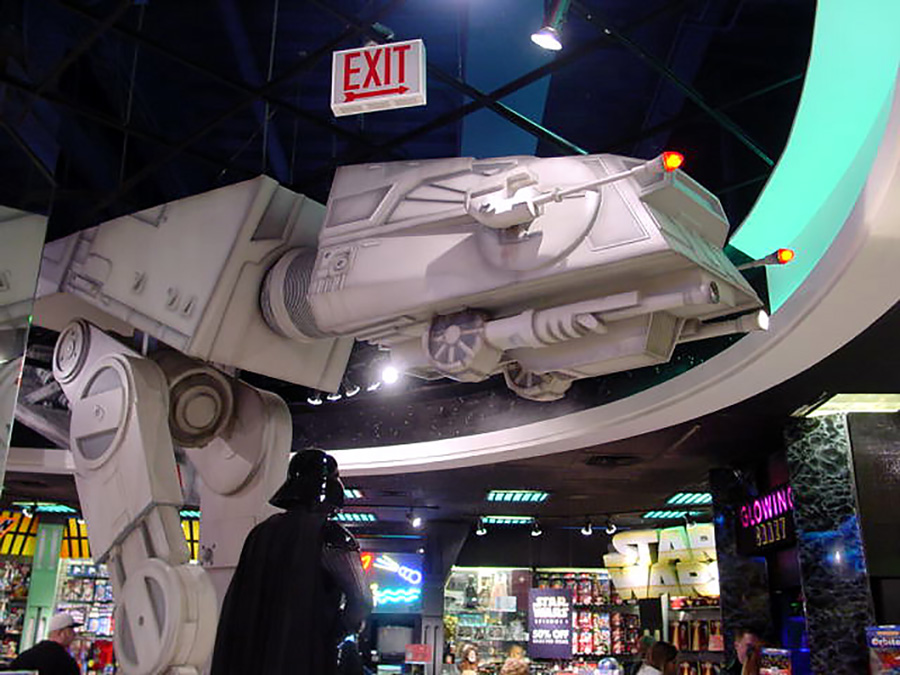 The following report and gallery of photos taken at FAO Schwarz stores in the US was originally published on the old version of the SWNZ website.
Here are some of the photos I took while visiting US toy shops: the first 3 are from the Chicago FAO Schwarz store, and the last 7 are from the New York FAO Schwarz branch. Believe me when I say that these photos only go part of the way to describing the atmosphere in these shops. The Darth Vader, Battle Droid and Queen Amidala are all fully detailed, life-size statues, and the Artoo is a life-size Lego replica. The AT-AT must have been somewhere near 4 metres tall (to give some idea of scale, the Darth Vader standing underneath it is displayed on top of a podium, so is already elevated). The Snowspeeder and Naboo fighter are a good couple of metres in wingspan (larger than the Hasbro display Naboo fighter which showed up in some NZ shops).
There were plenty of other life-size props also (e.g., multiple battle droids, pit droids, Darth Maul, Anakin's podracer etc), but in a busy shopping mall, some were just set up such that I couldn't get good photos. The New York store had the Star Wars films just looping continuously on a big 2 metre wide screen which was decked out to look like a spaceship window.
And then there was the merchandise! It's obviously 'off-season' for Star Wars toys at the moment, but these stores were still going strong with more Star Wars toys than we were seeing in NZ at the time that Episode 1 came out!
Join the discussion on this topic on the SWNZ Message Boards.
FAO Schwarz Star Wars Displays Gallery